North Korea tests new ballistic missile engines
Initial trials have proved the reliability of the technology, according to Pyongyang's official news agency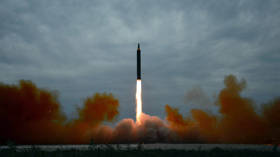 North Korea has successfully tested newly developed solid-fuel engines for the country's intermediate-range ballistic missiles (IRBMs), the state-run KCNA news agency has reported.
Pyongyang has intensified its missile and nuclear programs in recent years, claiming that it needs the weapons to deter potential aggression by the US and its regional allies.
Boasting a range of up to 5,500km (3,418 miles), North Korean IRBMs could potentially reach the US territory of Guam in the Pacific Ocean. As opposed to liquid-fuel missiles, solid-fuel projectiles typically take less time to prepare for launch, meaning that adversaries have less time to detect them.
KCNA reported on Wednesday that North Korea's missile industry "has developed new-type high-thrust solid-fuel engines for intermediate-range ballistic missiles," describing the development as being of "important strategic significance."
The agency added that initial ground tests of the first- and second-stage engines had been conducted on November 11 and 14 respectively. The trials reportedly confirmed the new equipment's reliability, paving the way for the development of a "new-type IRBM system."
According to KCNA, the North Korean leadership has this year tasked the country's missile industry with improving existing IRBMs as well as the longer-range Hwasong-18 intercontinental ballistic missile.
The recent solid-fuel engine tests represented an important step in "enhancing the strategic offensive capabilities of the DPRK's armed forces in the light of the grave and unstable security environment facing the country," the news agency added.
On Thursday, KCNA quoted a military spokesperson as announcing that Pyongyang would develop "more offensive and overwhelming response capabilities" and pursue "visible strategic deterrent military actions."
The warning came shortly after the US and South Korea unveiled their own "deterrence strategy" aimed at the DPRK.
Despite numerous UN Security Council resolutions and international sanctions imposed on it, North Korea has been steadily working to enhance its nuclear and missile capabilities in recent years.
Pyongyang carried out several cruise missile launches in September, which came on the back of a nuclear strike drill.
The US, South Korea, and Japan have repeatedly condemned such tests as provocative, while the North insists they are a legitimate response to the more frequent and large-scale joint drills held by Washington and Seoul on the Korean Peninsula.
You can share this story on social media: