No possibility of Gaza ceasefire – Biden
Israel has, however, agreed to daily "four-hour pauses" in fighting, the White House says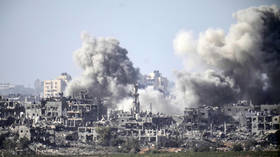 US President Joe Biden has ruled out any hope of achieving a lasting ceasefire between Israel and Hamas in Gaza.
"None. No possibility," Biden told reporters outside the White House on Thursday when asked about the chances of a firm cessation in hostilities.
Speaking to reporters separately later in the day as he was boarding Air Force One, the president revealed he had been pushing for a "pause" in fighting "for a lot more than three days."
The US, however, has not managed to secure any significant pause from Israel, which is reportedly determined to continue its war on Hamas until the militant group is completely destroyed.
Thus far, Israel has only agreed to implement daily humanitarian breaks, National Security Council spokesman John Kirby revealed during a press conference, hailing this development as "significant steps forward."
"Israel will begin to implement four-hour pauses in areas of northern Gaza each day, with an announcement to be made three hours beforehand," Kirby told reporters on Thursday. "We've been told by the Israelis that there will be no military operations in these areas over the duration of the pause (and) that this process is starting today."
Israel has repeatedly rejected the prospect of reaching any sort of ceasefire with Hamas while the group continues to hold hostages it took during its initial attack in the south of the country on October 7.
"There will be no ceasefire without the return of the hostages. This should be completely removed from the lexicon," Israeli Prime Minister Benjamin Netanyahu announved at the Ramon air force base over the weekend.
In private, however, Israel has reportedly refused to agree to a ceasefire, even if it was to secure the release of said hostages. According to The Guardian, Netanyahu has already rejected a deal for a five-day ceasefire in exchange for the release of certain hostages. The original deal involved freeing children, women, the elderly, and sick people, the newspaper wrote, citing sources familiar with the matter. The Israeli government shot down the proposal, however, with Netanyahu demonstrating a tough stance and responding by launching a ground offensive instead.
Follow LIVE UPDATES for more information
You can share this story on social media: