Driver shoots road-blocking climate activists dead (DISTURBING VIDEO)
A 77-year-old US-Panama citizen surrendered to police after the fatal shootings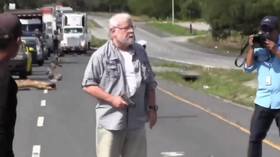 Two environmental protesters were shot dead by an angry motorist while blocking a freeway in Panama. The assailant can be seen opening fire on the demonstrators in footage circulating online.
The shooting unfolded on Tuesday afternoon on a stretch of the Pan-American Highway some 50 miles west of Panama City, where activists had erected barricades to protest a government mining contract which had recently been granted to a Canadian firm.
In photos and videos of the deadly encounter, an elderly driver was seen confronting the demonstrators before drawing a pistol. After a brief argument, the man fired off two shots, with one victim immediately collapsing to the ground, while the other was seen clutching a wound to his shoulder. The second activist appeared to be unresponsive in additional footage, and was later confirmed dead.
🔞WARNING: DISTURBING FOOTAGETwo people taking part in an anti-government protest in Panama were shot dead on Tuesday by an unknown assailant, authorities said, aggravating social tension that has welled up since anger over a lucrative mining contract sparked demonstrations. pic.twitter.com/l0X7BLdsOf

— War Watch (@WarWatchs) November 8, 2023
The victims were identified as Abdiel Díaz, a teacher who died at the scene, and Ivan Rodriguez, who passed away soon after reaching the hospital.
Local media has named the suspect as Kenneth Franklin Darlington Salas, a 77-year-old US-Panama citizen who was said to have a prior arrest on gun charges in 2005. The man was taken into custody by Panama's National Police immediately after Tuesday's shooting.
Heated protests have erupted across Panama in recent weeks over a mining deal awarded to a subsidiary of Canada-based First Quantum Minerals, which has been permitted to continue operating the region's largest open-pit copper mine for another two decades. Activists say the mine is located in an environmentally sensitive area of the jungle, and have voiced fears that the company would damage the local ecosystem.
"Panamanians are suffering from lack of water, suffering from droughts, principally in the central provinces, animals that die, harvests that don't happen," environmental activist Martita Cornejo told CNN, adding that "The government did not gauge the opposition from Panamanian society to a mining contract."
Panama's government has defended the new contract, with President Laurentino Cortizo calling it "the right decision" while arguing the move would create jobs and generate some $375 million in revenue each year.
You can share this story on social media: