NATO suspends arms control deal after Russian withdrawal
Freezing the Treaty on Conventional Armed Forces in Europe will buttress the bloc's deterrence, Washington has said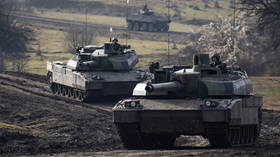 NATO has announced that it will suspend its participation in the Treaty on Conventional Armed Forces in Europe (CFE) after Russia withdrew from the deal, describing it as a "dead mechanism" amid the ongoing stand-off with the West.
The CFE Treaty was signed in 1990 by the Soviet bloc and NATO members in the last months of the Cold War. It put limits on the number of tanks, armored vehicles, artillery, helicopters, and aircraft stationed in Europe.
The Russian Foreign Ministry said that while the deal initially helped to stabilize the security framework in Europe, the US-led military bloc later started to overtly bypass the restrictions, including by admitting new members.
Amid the stand-off with the West over Ukraine, Russia ended its participation in the CFE mechanisms in 2015, calling them "anachronistic," and this spring Russian President Vladimir Putin signed a law to terminate the CFE, with the withdrawal finalized on Tuesday.
In a statement the same day, NATO condemned Moscow's decision, branding it "the latest in a series of actions that systematically undermine Euro-Atlantic security." It added that in light of Russia's withdrawal, a situation in which the alliance continued to adhere to the CFE would be "unsustainable."
"Therefore, as a consequence, Allied States Parties intend to suspend the operation of the CFE Treaty for as long as necessary," the bloc stated, adding that this move had been supported by all 31 members.
At the same time, NATO maintained that it was committed to reducing military risks, preventing misperceptions and conflicts, as well as building an effective conventional arms control framework while taking into account the current security situation.
In a separate statement, US National Security Advisor Jake Sullivan confirmed the move, adding that the "suspension of CFE obligations will strengthen the alliance's deterrence and defense capacity by removing restrictions that impact planning, deployments, and exercises."
Meanwhile, the Russian Foreign Ministry has ruled out the possibility of a new arms control deal with the West, saying NATO is unable to negotiate. "Only when life forces them to return to constructive and realistic positions could appropriate dialogue be revived as part of the effort to shape a new European security system," it said.
You can share this story on social media: