US nuclear submarine sent to confront Iran – Bloomberg
The Pentagon has made a rare announcement that it has deployed an Ohio-class sub to the Middle East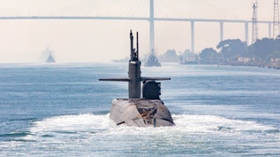 The US Navy announced on Monday that one of its nuclear-powered Ohio-class submarines had arrived at the Central Command (CENTCOM) area of responsibility, which encompasses the Middle East.
According to Bloomberg, the boat in question is the USS Florida, which can carry up to 154 Tomahawk cruise missiles or as many as 66 Navy SEAL special ops forces for clandestine operations.
Four Ohio-class subs were converted to be armed with cruise missiles rather than intercontinental ballistic missiles, with two based on each US coast. The news outlet said the deployment was meant as "a show of force" to Iran, citing unnamed US defense officials.
The CENCOM announcement included a photo of a submarine apparently heading towards the Al Salam Bridge, which crosses the Suez Canal. It's extremely rare for the Pentagon to report the deployments of nuclear-propelled submarines, unless they make a port call.
The additional military asset arrived in the region as two US carrier strike groups are on a mission in the eastern Mediterranean. The deployment of the USS Gerald R. Ford and Dwight D. Eisenhower was touted by Washington as a deterrence measure amid the ongoing Israeli military operation in Gaza.
The Israel Defense Forces (IDF) besieged the Palestinian enclave shortly after last month's deadly Hamas attack, which left over 1,000 dead and hundreds more taken hostage. West Jerusalem has declared the obliteration of the organization responsible as an objective of existential importance.
Critics say the response is disproportionate, pointing to the high civilian death toll from the IDF airstrikes. Gaza officials have claimed that these have taken the lives of over 10,000 people in the enclave.
There are concerns that other regional players, including the Lebanese militant movement Hezbollah and Iran, may enter the conflict in a major way. The US leadership has pledged to stand with Israel, including by providing additional military aid for its Gaza campaign.
The USS Florida was deployed for the first time in combat in 2011, when it bombarded Libya as part of the NATO operation to back rebel forces seeking to topple Muammar Gaddafi. The North African nation remains politically fractured and economically devastated more than a decade after the intervention.
You can share this story on social media: