'Weeks' left to destroy Hamas – former Israeli PM
Western support for military action in Gaza will evaporate as public opinion turns against it, Ehud Barak told Politico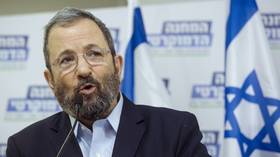 The Israeli military only has weeks to destroy Hamas before Western governments withdraw their support for the operation in Gaza, former prime minister Ehud Barak has said.
The Israeli military has but weeks to inflict damage on Hamas, before Western governments reduce support for the operation in Gaza, former Prime Minister and Defense Minister Ehud Barak believes.
"Listen to the public tone – and behind doors it is a little bit more explicit," said the 81-year-old, who also served as defense minister and a general with the Israel Defence Forces (IDF).
"We are losing public opinion in Europe and in a week or two we'll start to lose governments in Europe," Barak told Politico, as reported on Tuesday. "And after another week the friction with the Americans will emerge to the surface."
US officials have been advocating for "humanitarian pauses" in Gaza, but have not publicly threatened to withdraw Washington's backing. The government of Prime Minister Benjamin Netanyahu has refused to stop hostilities. Barak believes Israel will have to "come to terms with the American demands within the next two or three weeks, probably less."
"You can see the window is closing. It's clear we are heading towards friction with the Americans about the offensive. America cannot dictate to Israel what to do. But we cannot ignore them," he remarked.
However, the former general believes it would take the IDF months, or even a year, to push Hamas out of Gaza. Israel has made the obliteration of the Palestinian military group its primary objective after it caused hundreds of civilian deaths during an incursion a month ago.
The IDF has subjected Gaza to intensive bombardments as part of its strategy. Gaza officials reported that the death toll in the Palestinian enclave had surpassed 10,000 on Monday.
New evidence of changing attitudes in Europe emerged on Monday, when Belgian Prime Minister Alexander De Croo blasted Israel's military tactics.
"Bombing an entire refugee camp with the intention of taking out one terrorist, I don't think you can say that is proportional," De Croo said. "It is a bridge too far."
Last week, the IDF hit several Palestinian refugee camps, including the large Jabalia settlement in northern Gaza, which Israel had declared an evacuation zone. Israeli military spokesman Richard Hecht described the civilian casualties from Israeli strikes as "the tragedy of war" when confronted by CNN host Wolf Blitzer last week.
Barak served as prime minister from 1999 to 2001 and represented his nation during the US-mediated 2000 Camp David Summit with Yasser Arafat, the leader of the Palestine Liberation Organization.
You can share this story on social media: