US diplomats condemn Israel policy – Politico
In a leaked memo, State Department staffers argued that Washington must condemn Israel's killing of civilians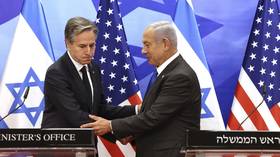 Lower- and mid-level diplomats at the US State Department have called on the administration of President Joe Biden to condemn Israel's bombing of civilians and demand a ceasefire in Gaza, according to a leaked memo seen by Politico. The memo is the latest sign of division within the department over Israel.
The memo calls on Secretary of State Antony Blinken and other senior diplomats to publicly demand that Israel agree to a ceasefire, and to align their public and private statements on the conflict, Politico reported on Monday.
Criticizing Israel in private but not in public "contributes to regional public perceptions that the United States is a biased and dishonest actor, which at best does not advance, and at worst harms, US interests worldwide," the memo reportedly states.
"We must publicly criticize Israel's violations of international norms such as failure to limit offensive operations to legitimate military targets," the message continues. "When Israel supports settler violence and illegal land seizures or employs excessive use of force against Palestinians, we must communicate publicly that this goes against our American values so that Israel does not act with impunity."
The memo was marked "sensitive but unclassified," Politico noted, adding that it is unclear how many people signed it, and whether it was submitted to the department's 'Dissent Channel,' which functions as a soapbox for employees to question policy decisions.
Several similar memos have been circulated since the Israel-Hamas war began on October 7, and Blinken met with a group of dissenting staffers late last month, the Huffington Post reported. A week before the alleged meeting, the State Department's arms-transfer chief quit his job in protest, writing in his resignation letter that Washington's rush to arm Israel was "shortsighted, destructive, unjust, and contradictory to the very values that we publicly espouse."
While Blinken has criticized incidents of violence against Palestinians by Jewish settlers, he has spoken more vaguely about the mounting civilian death toll in Gaza. "We've engaged the Israelis on steps that they can take to minimize civilian casualties," he said on Monday, after the Gaza Health Ministry reported that more than 10,000 people had died in the enclave since Israel's bombing campaign began a month ago.
Despite an overwhelming vote in favor of a ceasefire at the UN General Assembly late last month, Blinken has repeatedly rejected calls for a halt to the Israeli operation. Any pause in the fighting, he argued last week, would give Hamas time to "regroup and repeat what it did on October 7," referring to the group's assault on Israel that left around 1,400 people dead.
Blinken's aversion to a ceasefire was echoed in a memo sent to US diplomats at the outset of the conflict. The State Department email urged diplomats and communications staffers to steer clear of phrases such as "restoring calm," "end to violence/bloodshed," or "de-escalation/ceasefire," and instead to emphasize the Jewish state's right to "self-defense."
You can share this story on social media: