Israel willing to cause 'mass civilian casualties' – NYT
US officials reportedly urged restraint after hearing Gaza compared to Hiroshima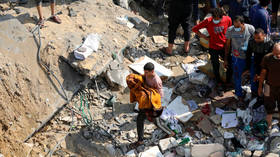 The Israeli government is willing to kill large numbers of civilians in order to defeat Hamas in Gaza, and told its US partners this in "private conversations," the New York Times has reported.
President Joe Biden's administration continues to support Israel but has become "more critical" of Prime Minister Benjamin Netanyahu's response to Hamas, due to the "humanitarian crisis in Gaza," according to a news analysis the outlet published on Monday.
"It became evident to US officials that Israeli leaders believed mass civilian casualties were an acceptable price in the military campaign," the New York Times claimed, adding that Israeli officials brought up the "devastating bombings," including the use of atomic weapons against Hiroshima and Nagasaki, that the US has employed against Germany and Japan during World War II.
The New York Times included the story in Tuesday's print edition, where it caught the eye of lawyer and activist Steven Donziger.
"This might help explain the massive scale of civilian and child death currently taking place in Gaza," Donziger noted on Instagram. "This mentality also might explain why Israel just dropped a huge bomb on the densely populated Jabalia refugee camp in Gaza and why it appears to be targeting civilians."
MSNBC host Mehdi Hassan also flagged the article on Wednesday, describing the paragraph as "almost buried" in the middle of the piece.
Focusing on Washington, the NYT article revealed how the Biden administration initially believed it could get support for Israel just as they had for Ukraine, given the nature of the Hamas atrocities on October 7, but soon realized this would be "impossible."
"If anything, countries around the world, especially developing nations, are moving the other way as the Palestinian death toll grows. Even European allies of the United States are divided on Israel's war," according to the outlet.
US officials also believe that Netanyahu has "no plans for what to do with Gaza" after Israel Defense Forces ground troops take "some or all of it."
Last Wednesday, the Pentagon reportedly asked Israel to delay the ground attack, in order to give the US more time to deploy air defenses in Iraq and Syria and buy time for negotiations to free some of the estimated 200 hostages held by Hamas.
The ground invasion began last Friday with a complete communications blackout of the Palestinian enclave. On Wednesday, the IDF said 15 of its soldiers have been killed so far in the ongoing operations.
You can share this story on social media: