Ukraine can't wage war without American money – Washington
Treasury Secretary Janet Yellen has claimed that direct economic aid from the US enables Kiev's forces to fight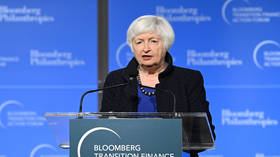 Ukraine's armed forces depend on US economic assistance to fight Russia effectively, Treasury Secretary Janet Yellen claimed in an interview with Sky News on Monday.
To date, Washington has already approved at least $113 billion in aid to Kiev, including over $40 billion in military assistance, according to recent calculations from the US State Department Office of Inspector General.
"I've been to Ukraine and I can tell you that the direct economic aid that we are providing to them is what enables them to fight this war. It keeps hospitals open, it keeps schools open and supports first responders," Yellen told the outlet.
Earlier this month, in an interview with the Washington Post, Ukrainian defense ministry official Gennady Kovalenko also admitted that Ukraine "depends one hundred percent on the United states," and that US aid was essential.
However, the scope of future US aid to Ukraine has recently become uncertain as a growing number of Republican lawmakers have declared their opposition to sending US taxpayer's dollars to fund Kiev's operations. Last month, Republican senators even threatened a government shutdown unless a $24 billion tranche that had been requested for Ukraine by President Joe Biden was removed from a government spending bill.
US National Security Council Spokesman John Kirby also stressed last week that US aid for Kiev is not "indefinite" and suggested that the Washington was running out of money for Ukraine unless Congress approved additional funding. "On the Ukraine funding, we're coming near to the end of the rope," he told reporters.
In her interview with Sky News, Yellen insisted that Washington's financial capacity was nevertheless sufficient to afford backing both Ukraine in its fight against Russia as well as Israel in its escalating conflict with Hamas.
She warned, however, that the potential economic ramifications of a larger conflict in the Middle East remain unknown, particularly amid an already volatile global oil and natural gas market that has contributed to a cost-of-living crisis in several Western economies in the past year.
You can share this story on social media: