Canada accuses Chinese of 'reckless' flying
Fighter jets reportedly came within five meters of a Canadian surveillance plane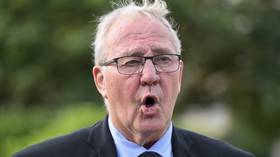 Canada's defense chief has accused Chinese military pilots of "dangerous" maneuvers over the East China Sea, after a Canadian surveillance plane was intercepted by People's Liberation Army warplanes earlier on Monday.
Commenting on the run-in, Defense Minister Bill Blair said he was "very concerned" by the "unprofessional" actions of the Chinese pilots, who reportedly approached the Canadian surveillance plane as it patrolled shipping lanes to enforce sanctions against North Korea.
"It was quite frankly dangerous and reckless. And those types of behaviors are not ever acceptable and we will express that to the People's Republic of China in the most appropriate way," he added.
Blair went on to note that the Chinese military regularly interacts with Canadian forces taking part in UN-led sanctions enforcement missions, but said the latest interaction put Canadian personnel at risk.
Canada's Global News previously reported that one of the Chinese jets had buzzed the Canadian CP-140 Aurora from a distance of just five meters and fired off several flares. News crews from both Radio Canada and Global News were on board the plane during the incident.
Major General Iain Huddleston, who also witnessed the encounter, later told reporters that the Canadian plane was "solidly in international airspace" at the time, also describing the Chinese intercept as "very aggressive" and "unprofessional."
The close call comes more than one year after a similar incident in the summer of 2022, when Ottawa accused Beijing of harassing Canadian patrol planes monitoring North Korea. Earlier this year, the US military also claimed a Chinese pilot had performed an "unnecessarily aggressive" maneuver near an American jet flying over the South China Sea. Both the US and Canada have stepped up their military presence in the Asia-Pacific in recent years, with US President Joe Biden ordering near-monthly transits of the disputed Taiwan Strait since taking office in 2021.
You can share this story on social media: