EU gives Zuckerberg 24 hours to address 'disinformation' concerns
Commissioner Thierry Breton has warned Meta about the alleged spread of fake news at the threat of fines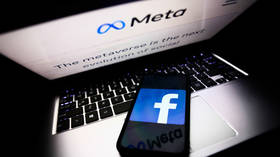 EU Internal Market Commissioner Thierry Breton has warned Meta CEO Mark Zuckerberg over the spread of false information on its platforms, Facebook in particular. The official has given Zuckerberg, who is also the corporation's founder and Chairman, 24 hours to respond and comply with bloc law.
In a letter to the Meta boss published on Wednesday, Breton stated that the warning concerns disinformation in light of upcoming elections in the EU.
According to the official, although Meta has addressed the risk of the spread of misinformation during elections, there is still a significant amount of deep fakes circulating on social media.
"I remind you that the DSA [Digital Services Act] requires that the risk of amplification of fake and manipulated images and facts generated with the intent to influence elections is taken extremely seriously in the context of mitigation measures," Breton said.
The platform's obligation to moderate posts and remove illegal content in the EU stems from the new European Digital Services Act (DSA), which came into force in August. Failure to comply with the rules will result in penalties, including fines of up to 6% of total global annual turnover.
Moreover, the letter noted an increase in illegal content and disinformation spread in the EU by "certain platforms" following the Hamas attack on Israel. Breton has therefore urged Meta "to be very vigilant" in removing alleged illegal content.
A Meta spokesperson responded to the allegations by saying that their teams were working "around the clock" to take action on content that violates their policies or local law, and coordinating with third-party fact checkers in the conflict to limit the spread of misinformation, the BBC reported.
Breton sent a similar warning to the owner of X (formerly Twitter), Elon Musk, on Tuesday. Musk responded that their policy was "open source and transparent." He then asked him to flag any offending content publicly on X, but Breton declined the offer, claiming Musk was already made aware of violations by its users.
Subsequently, X CEO Linda Yaccarino posted a letter to Breton, telling him the platform had removed or labeled "tens of thousands of pieces of content" linked to Hamas.
The latest surge of violence began on Saturday when Hamas, a Palestinian militant group which controls much of Gaza, launched 'Operation Al-Aqsa Flood', firing rockets and sending commandos deep into Israeli territory. The Israel Defense Force (IDF) responded by bombing Gaza and cutting off all of its utilities, as Israel made an official declaration of war.
You can share this story on social media: