Musk predicts 'civil war' in Europe
The billionaire has apparently endorsed the notion that EU immigration policy is suicidal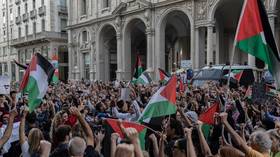 Entrepreneur Elon Musk has suggested that the European Union may face the prospect of civil war due to its immigrant-welcoming policies. Two weeks ago, he visited the US southern border, wading into the bitter debate over immigration in his adopted home country.
"If current trends continue, civil war in Europe is inevitable," he claimed in a post on X (formerly Twitter) on Wednesday.
Musk was responding to a thread by Moscow-born British satirist and political commentator Konstantin Kisin. He denounced what he called "people celebrating rape and murder by a proscribed terrorist organisation as the police stand and watch in major European cities."
Kisin was referring to pro-Palestinian demonstrations in the wake of the deadly incursion by Hamas into southern Israel last week. Some residents of European nations focused on condemning Israel for mistreatment of people in the West Bank and Gaza rather than condemning the killings and kidnappings of Israelis by the Palestinian militant movement.
"We import more people who think this way every day," Kisin noted, decrying the lack of "a sensible immigration policy" screening for people with "cultural values that match our own."
He was presumably referring to the EU rather than the UK, where Conservative governments have ramped up immigration controls since Brexit.
Kisin concluded that British author Douglas Murray was correct when he argued that European civilization was committing suicide in his 2017 book 'The Strange Death of Europe'.
Immigration is a hot-button issue in the US as well, as critics of the administration of President Joe Biden accuse him of turning a blind eye to illegal border crossings for the sake of ideological and political goals. Musk weighed in on the debate in late September, when he visited the border city of Eagle Pass in Texas.
The US should "smooth out legal immigration and stop a flow of people that is of such magnitude that we're leading to a collapse of social services," Musk urged at the time. He declared himself "extremely pro-immigrant," citing his own status as a naturalized citizen.
Representative Alexandria Ocasio-Cortez of New York attacked her colleague, Tony Gonzales of Texas, who gave Musk a tour of the border area. She said the Republican "decided to skip town to joyride with a billionaire" instead of staying in Washington DC and working on ways to avoid a government shutdown.
Congress has since passed a compromise stopgap spending bill, prolonging the fight over budgetary priorities.
Musk has previously branded Ocasio-Cortez "not very smart" on immigration issues.
You can share this story on social media: