Mexico refuses US request on migrant centers
The US neighbor prefers the sites for asylum seekers being in their countries of origin, its president has said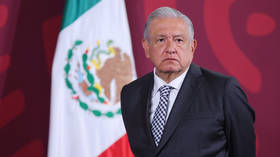 Mexico has rejected the US request to open local processing centers for migrants, President Andres Manuel Lopez Obrador said during his press conference on Tuesday. He noted that the issue will be addressed at a coming summit of Latin American leaders to be held in the Mexican state of Chiapas on October 22.
According to Lopez Obrador, the US opened these sites in certain countries to regulate migration and provide greater security. However, the proposal was declined when Washington asked Mexico to create such centers to issue temporary visas. "We have not accepted it. We want to talk to the presidents first," the Mexican leader said, referring to the upcoming meeting.
"We don't want to set up places in our country for them (migrants) to wait to be given temporary (US) visas," he stressed. "We want this to be where the migration originates, where the migrants come from, so they don't need to come to Mexico," the president added.
On October 2, the Mexican president revealed that the number of migrants arriving in his country through the southern border, where Chiapas is situated, had increased to 6,000 per day. Meanwhile, 10,000 migrants per day came to the northern border the previous week. Chiapas borders Guatemala, where a US-funded migrant processing center has already opened.
Amid the rising tide of asylum seekers, Mexico will hold a summit with 11 Latin American leaders to discuss the growing flow of migrants heading toward the US border. The leaders of Ecuador, Colombia, El Salvador, Honduras, Belize, Guatemala, Venezuela, Haiti, Cuba, Costa Rica, and Panama have been invited to attend because these countries "have the most influence in everything related to migration," Lopez Obrador said.
Last week, the Cuban Foreign Ministry declared a "noticeable growth" in the irregular migration of its citizens through the Central American corridor to the US. The statement mentions that the economic embargo limits the population's standard of living, which encourages migration. According to US government data, the number of Cuban immigrants who arrived in the country last year reached 250,000 or more, which is over 2% of the island's population.
You can share this story on social media: