Israeli lawmaker calls for using 'doomsday weapons'
Gaza should be "flattened" with nuclear-capable missiles, a member of the Knesset from the ruling party has stated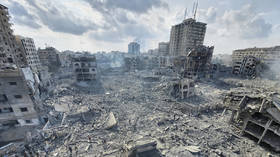 Israel should use Jericho missiles to "level" Gaza "without mercy" after the weekend's attacks by Hamas, lawmaker Revital Gotliv has said. Gotliv is a member of the Knesset from the ranks of Likud, the party of Prime Minister Benjamin Netanyahu.
"Jericho Missile! Jericho Missile! Strategic alert. before considering the introduction of forces. Doomsday weapon! This is my opinion. May God preserve all our strength," Gotliv posted on X (formerly Twitter) on Monday, according to a machine translation from Hebrew.
Jericho is the name of an Israeli intercontinental ballistic missile (ICBM), whose most recent iteration is capable of striking almost anywhere in the world. Israel is widely understood to have anywhere from 100-200 nuclear warheads, which the government in West Jerusalem has neither confirmed nor denied.
On Tuesday, Gotliv followed up her post about nuclear missiles with another, calling for "crushing and flattening Gaza."
"Only an explosion that shakes the Middle East will restore this country's dignity, strength and security! It's time to kiss doomsday. Shooting powerful missiles without limit. Not flattening a neighborhood," she posted. "Otherwise we did nothing."
"Not with slogans, with penetrating bombs. Without mercy!" Gotliv added.
X tagged her post as potentially being in violation of rules against violent speech, but did not delete it as it was deemed to be in the public interest.
In multiple other posts, Gotliv urged the Israeli government to "Shell Gaza mercilessly" and urged it to order "the crushing of Gaza." She also praised US President Joe Biden for a "flame-throwing speech that showed Hamas that we are not alone in our intent to wipe it off the face of the earth."
Hamas, a Palestinian militant group which controls much of Gaza, launched 'Operation Al-Aqsa Flood' on Saturday, firing rockets and sending commandos deep into Israeli territory. The Israel Defense Force responded by bombing Gaza and turning off all of its utilities.
As of Tuesday afternoon, the Israeli authorities recorded at least 900 killed and 2,600 injured. Meanwhile, the Palestinian authorities in Gaza have counted at least 830 dead and another 4,250 wounded since the outbreak of hostilities.
You can share this story on social media: