British troops killed nine Afghans 'in their beds' – Guardian
A public inquiry into the deaths of 80 civilians during the UK'S operations in Helmand has begun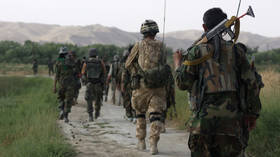 Members of Britain's Special Air Service (SAS) have been accused of shooting dead nine Afghans while they were sleeping during night raids on Afghan forces between 2010 and 2013. The allegations were made on the first day of a public inquiry into the killing of 80 civilians, The Guardian reported on Monday.
Lead counsel to the inquiry Oliver Glasgow KC focused on seven deadly missions in the Helmand province of southern Afghanistan that included the deaths of at least 33 people, including children.
The SAS "carried out a policy of executing Afghan males of fighting age in circumstances where they posed no immediate threat or were hors de combat [unable to perform combat duties]," Glasgow said.
He added that evidence from families "will be that they were shot in bed, most likely when asleep," explaining that photo evidence suggests they were shot at close range.
One of the raids allegedly occurred in the Nad Ali district of Helmand province on February 7, 2011, as several families gathered before a wake, The Guardian reported.
The SAS has insisted it acted in self-defense, claiming the Afghans were armed. However, Glasgow said that more people were shot in the incident than weapons found. He also pointed to the low height of apparent bullet holes in the walls of an outbuilding. Family members testified that the victims were unarmed civilians.
The counsel to the London inquiry also flagged emails that suggested special forces officers were making attempts to cover up concerns about the growing number of deadly incidents.
It marks the start of a process long sought by the victims that was only granted after two families took the British government to court, the outlet reported.
Last December, the UK Ministry of Defence announced it was launching an independent investigation into allegations that the British Armed Forces had committed war crimes in Afghanistan between 2010 and 2013. UK special forces are suspected of "abusing" night raids, which were meant to target Taliban commanders, to commit "numerous" extra-judicial killings.
In 2019, a military police investigation concluded that no evidence of criminal wrongdoing had been found. However, SAS commanders allegedly destroyed computer data to cover up possible evidence of the crimes.
You can share this story on social media: