Israel fires artillery at Lebanon
West Jerusalem said that its military was responding to mortar attacks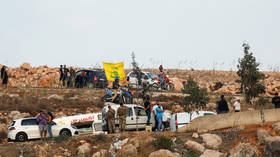 The Israel Defense Forces (IDF) announced on Sunday that they'd carried out artillery strikes on the territory of Lebanon in response to mortar attacks from across the border.
Mortar attacks were reported a day after Hamas and other Palestinian groups launched a large-scale assault on Israeli cities and army bases from Gaza.
"The IDF has been taking preparational measures for this type of possibility and will continue to operate in all regions and at any time necessary to ensure the safety of the Israeli civilians," the army said in a statement carried by the Times of Israel.
The shells that had earlier been fired from the Lebanese territory reportedly hit an Israeli military site in the contested Shebaa Farms.
The IDF said its "artillery is currently striking the area in Lebanon from where a shooting was carried out."
Al Arabiya reported that the Israeli shelling had targeted an area near the village of Kafar Shuba in southern Lebanon. There were no casualties as a result of the strikes, it added.
Later on Sunday, Lebanese movement Hezbollah claimed responsibility for the attack on Shebaa Farms, Reuters reported, citing a statement by the group.
Three Israeli military posts, including a "radar site," were targeted, Hezbollah said, adding that it had acted "in solidarity" with the Palestinian people.
The Shebaa Farms area, which has been occupied by Israel since 1967, is claimed by Lebanon as part of its territory.
In a later message on X (formerly Twitter), the IDF said it had also targeted the facilities of Hezbollah in Shebaa Farms with a drone.
The UN peacekeeping force on the Israeli-Lebanese border, UNIFIL, said in a statement that it had detected several rockets fired from southeast Lebanon toward Israeli-occupied territory near Kafar Shuba, and artillery barrages from Israel in response.
"We urge everyone to exercise restraint and make use of UNIFIL's liaison and coordination mechanisms to de-escalate to prevent a fast deterioration of the security situation," the statement read.
After Palestinian group Hamas launched its surprise attack on Israel on Saturday, Hezbollah issued a statement congratulating "the resisting Palestinian people" on what it called a "large-scale, heroic operation."
It was "decisive response to Israel's continued occupation and a message to those seeking normalization with Israel," the group stated.
Hezbollah said it was closely following the situation and remained in "direct contact with the leadership of the Palestinian resistance."
You can share this story on social media: