Russia to hike visa fees for most European states – RBK
The move is a response to the withdrawal from travel agreements by the EU and some individual countries, sources have told the business outlet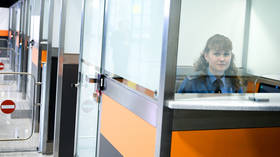 Russia will significantly increase visa fees for citizens of EU nations and several other European countries, business outlet RBK has reported. According to government sources, a commission has already approved the changes proposed by the Foreign Ministry.
In addition to the EU's 27 members, the draft bill listed Iceland, Liechtenstein, Norway, and Switzerland as the nations affected by the move, RBK said on Monday.
Denmark, which is an EU member, was also specifically cited. Moscow and Copenhagen signed a deal to simplify the visa process in 2008, although bilateral relations have deteriorated in recent years. After Denmark reduced the number of entry papers issued to Russians, the Russian consulate in Copenhagen suspended its visa operations in September.
Visa fees for citizens from the nations listed will rise from the current $37-$73 (€35-€70) to $50-$300 (€48-€286), depending on the type of entry permit, RBK said.
According to the bill, the Russian visa waiver program will no longer cover several categories of visitors from these countries. This includes the close relatives of Russian citizens, officials, students, athletes, people involved in scientific and cultural activities, and those traveling to Russia for humanitarian reasons such as medical treatment or to attend a funeral.
The Foreign Ministry said that the measures would allow it to more than double its income from issuing visas, RBK reported.
The move is a response to the withdrawal by the states listed from travel agreements with Russia after the outbreak of the Ukraine conflict. It will also synchronize Russian visa fees with the prices charged by the countries mentioned, RBK said.
All of the nations listed have already been designated 'unfriendly states' by Moscow for imposing sanctions, expelling diplomats, or carrying out other anti-Russian activities.
However, according to RBK, the Foreign Ministry explained that their citizens will remain eligible for electronic visas, which were introduced by Russia in August.
The e-visa application process takes four days and involves using a dedicated website or mobile app. It costs around $52 (€50) and allows travelers to stay in Russia for around two weeks as a tourist, guest, or business visitor.
According to the Kommersant newspaper, the number of foreign bookings of Russian hotels increased by 25% in the first month after electronic entry permits became available.
You can share this story on social media: