'Titanic effort' required to repair relations with Kiev – Warsaw
Poles' trust in Ukraine has been "shaken" by the escalation of the grain dispute, the country's foreign minister has said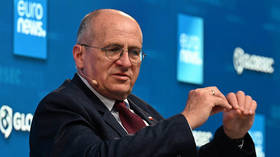 It will take a "titanic effort" to mend the rift between Warsaw and Kiev, Polish Foreign Minister Zbigniew Rau warned on Monday, as he explained why he did not join his EU colleagues at a summit in Kiev.
Relations between the two neighbors are "entering a period of downturn and my absence is partly an expression of this," Rau told the broadcaster Polsat, when asked why Deputy FM Wojciech Gerwel went to the EU ministerial meeting in the Ukrainian capital instead.
Relations with Kiev depend on "three dimensions," Rau explained – geopolitics, national interests, and domestic support. While Poland is aligned with Ukraine when it comes to geopolitics, regarding the conflict with Russia, Warsaw and Kiev have different national interests when it comes to the import and transit of Ukrainian agricultural produce.
The fact that Ukraine chose to escalate this trade dispute to the World Trade Organization (WTO) and the UN General Assembly, Rau told Polsat, "caused the trust of our society in the current policy of the Ukrainian government towards Poland to be shaken."
"After what happened, getting back to square one will require titanic efforts," the Polish foreign minister said.
The dispute over the importation of Ukrainian grain and other agricultural products has caused a diplomatic row between Kiev and Warsaw in recent months. The EU move to suspend tariffs on Ukrainian exports – aiming to support Kiev in the conflict with Moscow – saw highly regulated farmers in neighboring countries unable to compete with cheap corn, wheat, and sunflower oil.
Brussels responded by only allowing the transit of Ukrainian goods through Poland, Hungary, Slovakia, and Romania. When that moratorium expired on September 15, those countries reimposed it on their own.
Ukraine has since launched a complaint to the WTO, while President Vladimir Zelensky accused the four countries of supporting Russia in his September 22 speech at the UN General Assembly. Zelensky's speech caused outrage in Poland and was condemned by its leading politicians.
In the Polsat interview on Monday, Rau insisted that Warsaw is carrying out all of its "military and political" obligations towards Kiev, including those required by NATO membership. Poland does not tell Ukraine what to do, but expects the same courtesy in return, he added.
You can share this story on social media: