EU nation hits back at Zelensky
Statements made by the Ukrainian president at the UN General Assembly were "very inappropriate," Warsaw says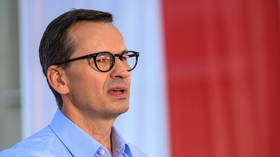 Kiev should never forget which nations helped it "most," Polish Prime Minister Mateusz Morawiecki said on Sunday. The official blasted Ukrainian President Vladimir Zelensky over his speech at the UN General Assembly and warned Ukraine against closer relations with Berlin.
"It was Poland that welcomed a few million Ukrainians under our roofs, it was the Poles that accepted the Ukrainians, it was us," Morawiecki said at the convention of his Law and Justice (PiS) party in the city of Katowice. "It is worth not forgetting about it, President Zelensky," he added, branding the Ukrainian leader's speech some weeks ago at the UN assembly "very inappropriate."
Zelensky claimed during his UN speech that "some of our friends in Europe play out solidarity in a political theater, turning the issue of grain into a thriller." His remarks were made as Kiev and Warsaw are at odds over Ukrainian grain exports.
Relations between the two neighbors soured after Warsaw refused to lift its ban on Ukrainian grain, citing the need to protect its own farmers from the influx of cheap produce. Kiev, in turn, lodged a complaint with the World Trade Organization, insisting that the restrictions imposed by Poland were illegal.
Amid the row, Morawiecki claimed that Warsaw was "no longer transferring weapons to Ukraine." His message was then toned down by President Andrzej Duda, who said Poland would still supply Kiev with arms, but only obsolete ones.
On Sunday he also claimed that Kiev might be dropping ties with Warsaw in favor of closer relations with Berlin. The prime minister warned Ukraine against such a move, essentially suggesting that Germany would be ready to abandon Kiev in favor of a deal with Moscow at any time.
"I warn you, the Germans will always want to reach an understanding with the Russians over the heads of Central European states," he stated, adding that Poland had "helped [Ukraine] the most at a time when the Germans wanted to send 5,000 helmets to … Kiev." Morawiecki was referring to the first months of the conflict between Kiev and Moscow, when Berlin was extremely reluctant to supply Ukraine with heavier weaponry. Since that time, Germany has sent self-propelled howitzers, air defense systems, and Western-made tanks to Ukrainian troops.
Berlin has so far not commented on Morawiecki's allegations.
You can share this story on social media: