EU foreign ministers hold first meeting in Kiev
The gathering is taking place amid a gloomy counteroffensive outlook and US aid concerns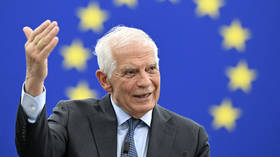 The foreign members of the EU's member states convened their inaugural meeting outside the bloc's territory in Kiev on Monday.
"We are convening a historic meeting of EU Foreign Ministers here in Ukraine, candidate country and future member of the EU," the bloc's top diplomat, Josep Borrell, said in a post on X (formerly Twitter) prior to the meeting.
The purpose of this gathering in Kiev, as Borrell explained, is "to express our solidarity and support to the Ukrainian people."
Separately, in comments made alongside Ukrainian FM Dmitry Kuleba, the EU foreign policy chief explained that the meeting will be "informal," as it's taking place outside the bloc's borders.
Ministers will engage in a "high-level political debate" during this session, although no specific conclusions or decisions are expected. The focus will be on assessing the situation on the battlefield and "brainstorming" ways to support Ukraine further in its conflict with Russia.
Among the topics on the agenda is the promotion of Ukrainian President Vladimir Zelensky's so-called ten-point peace plan, which calls for Russian withdrawal from territories claimed by Kiev, war reparations from Moscow, and a war crimes tribunal. Russia has promptly rejected this proposal as "unrealistic," viewing it as a sign of Kiev's unwillingness to resolve the crisis diplomatically.
The meeting came at a time when Russia claims that the much-anticipated Ukrainian counteroffensive has faltered. Last month, Russian President Putin stated that over 71,000 Ukrainian troops have been killed since the operation began in early June. Ukraine's territorial gains have been limited to capturing a few small villages distant from the main Russian defense lines.
There are also concerns about the flow of US aid following the absence of Ukrainian funding in the recent last-minute budget deal struck by Congress late on Saturday to avert a US government shutdown.
On Sunday, however, Borrell promised that Brussels would "continue supporting and increasing our support" to Ukraine regardless of Washington's decisions.
According to EU data, the bloc and its member states have already provided Ukraine with over $88 billion in aid since the start of the Russia-Ukraine conflict in February 2022.
You can share this story on social media: