EU will back Ukraine without US – Borrell
Brussels "regrets" the US Congress decision not to include military aid for Kiev in its spending bill, its top diplomat says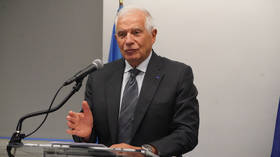 EU military aid to Ukraine will not depend on decisions taken by the US, the bloc's top diplomat, Josep Borrell, told journalists during his visit to Kiev on Sunday. Brussels plans to continue and further increase its military assistance to the Ukrainian forces, he added.
"We have not waited for the [US] decision to be taken to increase our propositions to support Ukraine," the official stated when asked about the EU's reaction to the US Congress removing military aid for Kiev from its short-term spending bill, passed over the weekend.
Brussels still regrets the American lawmakers' decision "deeply and thoroughly," Borrell acknowledged, expressing his hope that "this will not be a definitive decision, and Ukraine will continue having the support of the US."
The EU Commission had earlier proposed creating a fund for Ukraine worth €50 billion ($52.8 billion), the bloc's top diplomat noted, adding that he also suggested setting up a similar fund amounting to €20 billion ($21.13 billion) within the European Peace Facility at an EU foreign ministers' meeting in August.
"Let's see what'll be happening in the US but from our side, we will continue supporting and increasing our support," the official pledged. The EU's top diplomat also maintained that the bloc's military aid for Kiev is "permanent structured" and does not depend on the decisions of other nations or the results of Ukraine's military efforts.
The Ukrainian counteroffensive, underway since early summer, has so far failed to bring about any major changes on the frontline, despite massive Western military aid and heavy Ukrainian losses.
"We are facing an existential threat for Europe," Borrell claimed, adding that if Brussels wants the Ukrainian troops to be "more successful, we have to provide them with better arms and quicker."
He also hinted that Kiev should be more grateful for the bloc's efforts. In some cases, "our support is not being perceived as important as it is," the EU top diplomat claimed.
He noted that total military aid from Brussels and the EU member states to Ukraine has amounted to €25 billion ($26.4 billion), while cumulative military, financial and humanitarian support has reached €85 billion ($89.8 billion).
You can share this story on social media: