Biden demands uninterrupted cash flow to Ukraine
The US leader blasted "extreme House Republicans" for a "manufactured crisis"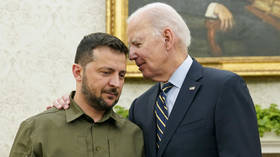 President Joe Biden has welcomed a bipartisan short-term budget deal that will keep the US government open for the next 45 days, but was disappointed that none of the billions of dollars in aid to Kiev that he had requested made it to the final bill.
"We cannot under any circumstances allow American support for Ukraine to be interrupted," Biden said in a brief statement on Saturday night, shortly after Congress passed the measure.
Biden had requested an additional $24 billion for Ukraine, but critics argued that Washington has more important priorities and should have stronger safeguards against the misappropriation of the funds and supplies it sends to Kiev.
The US leader, however, blamed "extreme House Republicans" for causing a "manufactured crisis" and "demanding drastic cuts that would have been devastating for millions of Americans."
"I fully expect the Speaker will keep his commitment to the people of Ukraine and secure passage of the support needed to help Ukraine at this critical moment," the US president added.
Republican House Speaker Kevin McCarthy had to rely on Democrats in order to pass the bill and avert a government shutdown, as 90 Republicans opposed any short-term funding measures, denying him the much-needed votes. As a part of the deal, McCarthy increased federal disaster assistance by $16 billion, but had to forgo the border security provisions sought by the GOP.
After no new aid to Ukraine made it to the final bill, the House Democratic leadership said in a statement on Saturday that they expect McCarthy to bring a separate Ukraine aid package to vote when the House returns.
The Secretary of Defense Lloyd Austin also welcomed the bill passing, but called on the Congress to "live up to America's commitment to provide urgently-needed assistance" to Kiev. "America must live up to its word and continue to lead," he added in a statement published on Saturday.
You can share this story on social media: