Several dead in Spanish nightclub fire
Officials have warned that the death toll could rise, with several people unaccounted for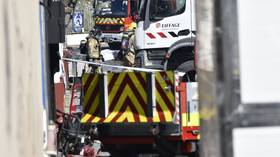 At least 13 people were killed in a fire at a nightclub in the southeast Spanish city of Murcia in the early hours of Sunday, local authorities have said.
It had initially been reported that six fatalities had been located at the scene on Sunday morning, but this figure rose to 13 by the afternoon.
"We are devastated," Mayor Jose Ballesta told Spanish broadcaster 24 Horas, adding in a post on X (formerly Twitter) that "emergency services continue to work in the area. Strength and encouragement to family and friends in these difficult times."
Murcia's local government has declared three days of public mourning in response to the tragedy.
The blaze is understood to have broken out in the popular Teatre nightclub in the Atalayas area of Murcia at about 6am local time, and has since been brought under control. Members of a group celebrating a birthday in an upper level of the nightclub may remain unaccounted for, according to Spanish publication La Verdad.
Emergency services have warned that the death toll may rise.
Forty firefighters were involved in efforts to control the blaze, and in the rescue operation. The Homicide Group of the Murcia Police has opened an investigation into the cause of the disaster. At least four people were treated for smoke inhalation.
Footage posted on social media shows firefighters attempting to control the flames, which appeared to have destroyed a large section of the building's roof. Thick plumes of smoke could be seen billowing from the building.
The cause of the fire, which broke out while the nightclub was still busy, remains unclear.
"Emergency services are still hard at work to put out the fire that occurred in the Teatre nightclub," Murcia Town Hall said, adding that it "deeply regrets" the incident, and offers its condolences to all those affected.
You can share this story on social media: