Suicide bomber strikes Turkish government building
The explosion occurred at the Interior Ministry, local authorities say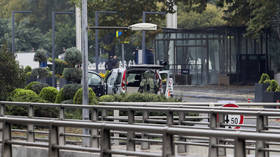 A suicide bomber has detonated an explosive device outside the Interior Ministry headquarters in the Turkish capital Ankara, local authorities have reported.
The blast on Sunday morning was an attempted terrorist attack, according to the authorities. Two perpetrators were involved in the incident, one of whom blew himself up, while the other was neutralized by the security forces, the Interior Ministry added.
Two police officers were injured in the standoff, officials said.
In response to the attack, President Recep Tayyip Erdogan said "terrorists" will never succeed in destroying peace and security in Türkiye.
"The villains who threaten the peace and security of citizens have not achieved their objectives and will never achieve them," he said on Sunday ahead of the new legislative year of the Turkish parliament.
Images from Ankara show armored vehicles being deployed in the streets, along with numerous armed police officers and soldiers. One of the photos features what looks like a used man-portable rocket launcher thrown on the ground.
The attack occurred on the day when Türkiye's parliament was scheduled to reconvene following its summer recess. Reports indicate that the session is expected to proceed as planned.
Last November, an explosion rocked a busy pedestrian area in the center of Türkiye's largest city, Istanbul. The blast killed eight people, including two children, and injured 80 others. The Turkish authorities blamed the attack on the outlawed Kurdistan Workers' Party (PKK) and the Syrian Kurdish militia YPG. The PKK denied any involvement.
You can share this story on social media: