Israeli guards accused of 'intimate relations' with terror convict
All female soldiers will be removed from guard duties by next year Israeli security chief pledges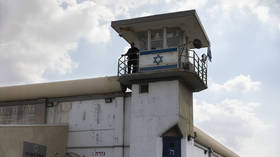 The Israeli military will no longer allow women to work as prison guards at high-security facilities, a top official has confirmed, ordering an "immediate" end to the practice after several female soldiers were accused of having sexual relations with a Palestinian inmate.
National Security Minister Itamar Ben-Gvir announced the decision on Friday, responding to earlier reports stating that five Israeli troops had inappropriate contact with a prisoner convicted for his role in a deadly terrorist attack in central Israel.
"The shocking report… is further proof of the necessity and urgency of removing our female soldiers from all security prisoner wings," the minister said, adding that "by the middle of 2024, there will not be a single female soldier left in the wings of the security prisoners."
According to the Ynet news site, which first reported on the case, Israeli intelligence services learned that one unnamed IDF guard had an "intimate relationship with a security prisoner over the past year," believing she maintained contact with the inmate through an illicit phone kept in his cell. The outlet noted there was a "physical and intimate" exchange on at least one occasion, and added that the two even shared photos using the contraband phone.
The guard in question was interrogated by the military, and later revealed that four other guards had similar relations with the same inmate, according to Ynet. She was reportedly detained on house arrest for "fraud and breach of trust," among other charges, while the other four service members have yet to face questioning.
However, lawyers for the first guard have pushed back on the allegations, insisting their client was a "victim of that security prisoner" and that their relationship was "forced upon her by threats."
"At one point when my client begged him to stop his actions and let her go – he threatened to hurt her and her family and destroy her life," attorney Yair Ohayon said. "She is clearly the victim, and now that the matter has become public – she has suffered a double injustice."
The national security chief previously called for major reforms to Israel's high-security prison system, pressing to replace IDF conscripts with more specialized professional guards. Similar calls to action came last year following reports that another prisoner had raped a female IDF guard, with officials hoping to place greater "emphasis on preventing sexual harassment" in detention centers.
You can share this story on social media: