America's top general takes parting shot at 'wannabe dictator'
Mark Milley has marked his last day at the Pentagon by taking an apparent swipe at former President Donald Trump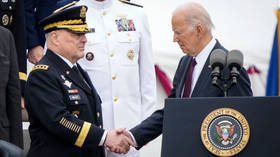 Outgoing US Chairman of the Joint Chiefs of Staff Mark Milley has capped his 44-year military career by taking an apparent shot at his former commander-in-chief, Donald Trump, suggesting that the ex-president is a "wannabe dictator."
"We are unique among the world's militaries," Milley said at a ceremony marking his retirement on Friday in Arlington, Virginia. "We don't take an oath to a country, we don't take an oath to a tribe, we don't take an oath to a religion. We don't take an oath to a king, or a queen, or a tyrant or a dictator, and we don't take an oath to a wannabe dictator."
CNN, Reuters and other media outlets inferred Milley's comment to be a reference to Trump, with whom he has feuded for years. "We don't take an oath to an individual," the US Army general added. "We take an oath to the Constitution, and we take an oath to the idea that is America, and we're willing to die to protect it."
In contrast to his jab at Trump, Milley praised current President Joe Biden, who spoke earlier at Friday's ceremony. He thanked Biden for "unwavering leadership" and claimed that the president had made the US military stronger than ever. "I've seen you in the breach, I've seen you on the watch, and I know firsthand that you're a man of incredible integrity and character," Milley told Biden.
Milley's acrimonious relationship with Trump was brought back to the forefront in recent days as he did multiple media interviews marking the end of his stint as the top-ranking US military officer. Those discussions focused largely on the general's conflicts with Trump. He told The Atlantic in a profile published last week that Trump will be looking for vengeance if he's elected president again in 2024: "He'll start throwing people in jail, and I'd be on the top of the list."
The former president suggested in a Truth Social post on Friday that Milley committed treason when he placed secret calls to his Chinese counterpart about the then-president's military intentions during his last few months in office. "This is an act so egregious that, in times gone by, the punishment would have been death," Trump said.
Milley responded in a CBS News interview by acknowledging that he had taken extra security precautions for himself and his family because of Trump's attack. He argued that the ex-president's criticism was directed not only at him, but also at the entire US military. While extolling the military's virtues in Friday's speech, he said, "We are not easily intimidated."
The general was appointed as chairman of the joint chiefs by Trump in 2018. The relationship apparently began to sour in 2020, when Milley apologized for appearing with Trump as the president walked to a church near the White House that was damaged by Black Lives Matter rioters.
As Trump's term in office wound down in late 2020 and January 2021, Milley made calls to Chinese General Li Zuocheng and other foreign military leaders to allay fears that the president might instigate a war. He also assured then-House Speaker Nancy Pelosi that safeguards were in place to prevent Trump from launching a nuclear attack.
You can share this story on social media: