Albanian and Serbian leaders demand NATO intervention in Kosovo
Edi Rama and Aleksandar Vucic have both argued Western peacekeepers will do a better job than Kosovo's ethnic Albanian police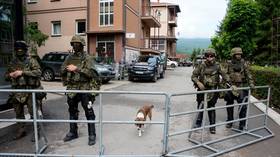 Albanian Prime Minister Edi Rama and Serbian President Aleksandar Vucic have both called on NATO's Kosovo Force (KFOR) to take over policing duties in the Serb-populated northern regions of Kosovo, after a deadly shootout between Kosovo police and armed Serbs.
"KFOR must take control of the north of Kosovo," Rama said at a press conference in Tirana on Thursday. "It is a proposal that I have made before," he continued, adding that "even some voices have asked for it from the Serbian side."
Rama claimed that should KFOR fail to intervene now, the Serb minority in northern Kosovo will eventually launch an attack on Kosovo police necessitating a far larger intervention by the NATO mission in future.
Kosovo has been occupied by around 5,000 NATO troops since 1999, when the Western bloc launched an air war against Serbia on behalf of ethnic Albanian terrorists, who claim sovereignty over the historic Serbian province. Kosovo declared independence in 2008, a move that Serbia, along with Russia and around half of all UN states, do not recognize.
In Belgrade, Vucic issued a similar call on Tuesday after a meeting with envoys from the Quint group, which comprises the US, the UK, France, Germany, and Italy. "I reiterated Serbia's views on the latest events in Kosovo and Metohija and requested that KFOR take care of all security issues in the north of Kosovo instead of Kurti's police," he wrote on Instagram, referring to Kosovo's prime minister, Albin Kurti.
Both statements came after one of Kurti's policemen and three Serbs were shot dead in the village of Banjska on Sunday. Vucic claims that a group of Serbs were setting up a barricade to fend off raids by Kurti's forces when these forces provoked a shootout. Kurti claims that a group of 30 Serb gunmen fired first, killing the police officer before occupying a monastery for several hours and then retreating on foot.
Kurti called the gunmen "Serbian state-backed troops," while Vucic denied any connection between the group and Belgrade. The Serbian leader stated that "Kurti is the only one to blame" for the fatal altercation, adding that "his only desire is to drag us into a war with NATO."
Despite the long-standing animosity between Serbia and NATO, Vucic views KFOR as less threatening to Kosovo's Serb minority than Kurti's forces. Had KFOR encountered the Serb barricades on Sunday instead of Kosovo police, he argued on Sunday, "there would have been much fewer victims."
However, KFOR "gave Kurti a 'carte blanche', as they say, to deal with the terrorists and kill as many people as possible," Vucic added.
You can share this story on social media: