NATO peacekeepers gave Kosovo 'carte blanche' to kill Serbs – Vucic
The Serbian president addressed a shootout in the breakaway region that left several people dead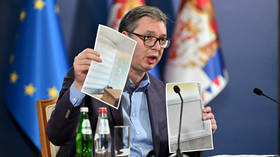 A NATO peacekeeping force deployed in Kosovo turned a blind eye to a police crackdown on local Serbs, President Aleksandar Vucic said in the wake of a deadly skirmish in the breakaway region early on Sunday.
Speaking at a press conference later the same day, the Serbian leader addressed the chaos that erupted in the village of Banjska located in the northern part of Kosovo. According to Vucic, a group of Serbs erected a barricade in the settlement, with ensuing clashes with Kosovo police resulting in the death of one officer.
As the skirmish unfolded, a total of three local Serbs were killed and two others wounded, with another person feared dead, he said.
However, the Kosovo authorities claimed that around 30 heavily armed gunmen ambushed the local police, later fleeing to a nearby monastery. After a shootout that lasted for several hours, law enforcement managed to clear the church. It confirmed the death of three Serbs, adding that five others had been arrested.
Kosovo Prime Minister Albin Kurti claimed that the alleged culprits were "Serbian state-backed troops" who carried out "terrorist acts," an allegation categorically denied by Vucic.
The Serbian leader stated that "Kurti is the only one to blame" for the fatal altercation, adding that "his only desire is to drag us into a war with NATO and that's all he does all day."
He also accused the NATO-led Kosovo Force (KFOR), which has been stationed in the breakaway region for more than two decades, of supporting Pristina. Vucic said that Serbs in Banjska "were completely surrounded in an hour and 20 minutes," arguing that it was "obviously done in cooperation with international forces."
"A brutal attack was carried out on them. We wondered why KFOR did not do this, there would have been much fewer victims, but they gave Kurti a 'carte blanche', as they say, to deal with the terrorists and kill as many people as possible," the Serbian leader said.
Tensions in the northern part of Kosovo have been running high for several months, fueled by the decision of ethnic Serbs, who make up the majority there, to boycott municipal elections earlier this year over Pristina's reluctance to grant them more autonomy. While Serbia and Kosovo attempted to normalize ties and address the issue, EU-mediated talks earlier this month failed to produce a breakthrough.
Kosovo unilaterally declared independence in 2008 with the support of many Western countries. It is not recognized by Russia, China, and Serbia itself.
You can share this story on social media: