US meddling in EU state's election – Russian intelligence
Washington will stop at nothing to ensure a loyal government remains in power in Slovakia, Moscow has claimed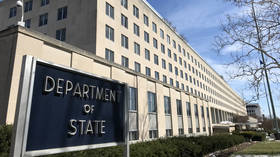 The US is willing to go to any lengths, including blackmail and bribery, to ensure the incumbent government wins the upcoming election in Slovakia, Russia's Foreign Intelligence Service (SVR) has claimed.
In a press release issued by the SVR on Thursday, director Sergey Naryshkin accused the White House of increasingly meddling in Slovakia's internal affairs as the Central European country approaches the parliamentary election this weekend.
The opposition in Slovakia has made it abundantly clear that it would not unquestioningly follow the US lead if elected, and according to the SVR, stands a good chance of coming out on top in the vote.
To prevent this from happening, "the US State Department sent instructions to several of its European allies to conduct targeted work with local political and business circles," the Russian intelligence agency claimed. It further alleged that Washington has sanctioned the use of methods such as blackmail, threats, and bribery.
The SVR also claimed that the US has already instructed the leader of the Progressive Slovakia party, Michal Simecka, who also serves as the European Parliament vice-president, to form a "cabinet completely loyal to Washington," should his party triumph.
"Taking these realities into consideration, the upcoming election in Slovakia can hardly be viewed as a democratic expressing of the will of the people, and free from external influence," the SVR concluded.
Citing an anonymous European Commission official, Politico reported in June that Brussels feared a potential victory for former Prime Minister Robert Fico's Direction – Slovak Social Democracy party would spell "disaster" for the EU's position on Russia sanctions and continued defense aid for Ukraine.
NATO member Slovakia has supplied Kiev with armored personnel carriers, howitzers, and its entire fleet of Soviet-era MiG-29 fighter jets. However, Fico has made it clear that he will terminate the aid if he returns to power. He has also called into question the need for economic measures against Moscow.
A recent poll commissioned by Slovakia's TV JOJ 24 broadcaster indicated that Progressive Slovakia and Direction – Slovak Social Democracy are neck and neck, with 18% and 17.7% of support respectively.
You can share this story on social media: