Biden team initiates 'don't trip strategy' – Axios
The US president's re-election staff are scrambling to cover up for his physical frailties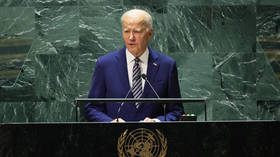 US President Joe Biden's staff are urgently working to keep him from falling over during his 2024 re-election bid, Axios reported on Tuesday.
Since tripping on a sandbag and falling in full view of the audience during an Air Force Academy ceremony in June, an incident widely shared and mocked on social media, Biden, who is 80 years old, has been wearing tennis shoes more often and using the "short stairs" to ascend the steps of Air Force One, in order to avoid another public stumble, the outlet claimed.
White House spokesman Andrew Bates insisted the don't-trip program had been "proactively and transparently disclosed" in health summaries released by Biden's doctor during the first two years of his presidency, and accused Axios of neglecting Biden's "very real achievements for hardworking Americans" in favor of a sensationalized story about the aging head of state.
Biden's staff have reportedly weighed the possibility of his being mocked for using the short steps on the tarmac against the much more pressing threat of voters (and potentially even the Democratic Party) abandoning him because of his age, and decided a few concessions are preferable to further public embarrassment.
The US president has been working with a physical therapist to improve his balance. His doctor had recommended balancing exercises, described as "general flexibility and proprioceptive maintenance maneuvers," and observed the president was suffering from arthritis and decreased sensation in his feet as well as spondylosis of the spine, causing difficulties with movement.
A poll conducted last month by the Associated Press and NORC suggested that three-quarters of Americans believe Biden is too old to be president. Only about half of those polled saw former president and Republican frontrunner Donald Trump, who at 77 is only three years younger than his rival, as too old for the job.
Seemingly aware of the closeness in their ages, Trump has said that while Biden is "grossly incompetent," he is not too old to be president, instead focusing on the incumbent's lack of "mental acuity" and the negative outcomes of his term in office.
While Biden himself has said his own age "does not register" with him and has insisted voters should judge him by his energy level, a CBS poll released earlier this month suggested that only 34% of registered US voters believe he would actually complete a second term if re-elected. Just over a quarter – 26% – believe Biden has the mental and physical health to continue serving.
You can share this story on social media: