Polish probe contradicts Ukrainian missile strike claims – media
Investigators have reportedly ruled out Kiev's claims that Russia was the culprit in the November 2022 incident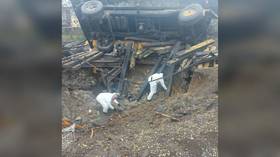 Polish investigators have confirmed that a missile strike that killed two farmers in the border village of Przewodow, was fired by Ukrainian forces, the Rzeczpospolita newspaper reported on Tuesday. The probe findings directly contradict multiple claims by Kiev that Russia was responsible for the incident.
The outlet referenced a comprehensive report prepared by investigators who examined all available forensic evidence in the case. A spokesperson for the National Prosecutor's Office acknowledged the receipt of this classified document.
"We have sent an application for legal assistance to Ukraine, and we are waiting for a response," the official told the publication.
The newspaper claimed that so far Kiev "has not made any materials available to Poland".
The tragedy in Przewodow happened last November amid a Russian missile barrage hitting targets in Western Ukraine. The victims, aged 59 and 60, were killed after a projectile hit a grain farm.
Ukrainian President Vladimir Zelensky immediately branded the incident a "Russian missile strike on collective security." Hours later, Warsaw reported that the weapon was most likely Ukrainian, but the leadership in Kiev doubled down on claims that Russia fired it.
According to Rzeczpospolita, Polish investigators have identified the missile responsible as a 5V55 model known to be used in the Soviet-designed S-300 air defense system. Polish authorities have also pinpointed the precise location from which this missile originated in Ukraine. The article points out that, given the interceptor's range, it is evident that it could not have been launched from any Russian positions at that particular moment, including those in Belarus.
Sources cited by the newspaper, who are familiar with the investigation, explained that Kiev was employing a strategy of firing two anti-air missiles at each incoming target to enhance the likelihood of interception. However, the experts suggested that, in this particular case, the projectile in question failed to self-destruct.
Senior Ukrainian officials had reportedly expressed their willingness to collaborate in investigating the incident. Aleksey Danilov, the secretary of the Ukrainian National Security and Defense Council, asserted that Kiev possessed "evidence of a Russian trace" and offered to share it with Warsaw.
According to Rzeczpospolita, however, Polish prosecutors declined to undertake a joint investigation and did not permit Ukrainian officials to visit the site of the strike, citing legal constraints. Instead, they sought assistance through established bilateral channels, the newspaper reported.
The publication also noted the incident in Konstantinovka, a city under Kiev's control in Donbass, where a missile struck a market, resulting in the deaths of at least 15 civilians.
President Zelensky accused Russia of being responsible for the strike. Last week, The New York Times published findings suggesting that a Ukrainian Buk missile was likely responsible for the deaths.
You can share this story on social media: