'Never insult us again,' Warsaw warns Zelensky
Poland and Ukraine have been trading verbal jabs in their dispute over grain exports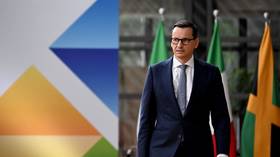 Polish Prime Minister Mateusz Morawiecki has warned Ukrainian President Vladimir Zelensky not to slander Poland on the world stage, as Kiev and Warsaw continue to feud over grain exports.
"I want to tell President Zelensky never to insult Poles again, as he did recently during his speech at the UN," Morawiecki told a crowd at a rally in the city of Swidnik on Friday.
"The Polish people will never allow this to happen, and defending the good name of Poland is not only my duty and honor, but also the most important task of the Polish government," the PM said. He stressed that Warsaw would stand up for its interests "in the current geopolitical context."
Speaking at the UN General Assembly in New York earlier this week, Zelensky said that "some of our friends in Europe play out solidarity in a political theater, turning the issue of grain into a thriller." Warsaw reacted to the speech by summoning the Ukrainian ambassador.
The row unfolded after Warsaw refused to lift its ban on Ukrainian grain, citing the need to protect its farmers from the influx of cheap produce from abroad. Kiev, meanwhile, launched a complaint to the World Trade Organization, insisting that the restrictions imposed by Poland were illegal. The issue is particularly sensitive as Poland is a crucial logistics hub for the delivery of foreign weapons to Ukraine, and hosts the training of Ukrainian soldiers.
Polish President Andrzej Duda has described Kiev as "a drowning man" who risks dragging under the water those trying to rescue him. Ukrainian Foreign Ministry spokesman Oleg Nikolenko, in turn, urged leaders in Warsaw to "put aside their emotions" and focus on finding a "constructive path" to resolve the dispute.
You can share this story on social media: