Poland wants Canada's House speaker out after honoring Ukrainian Nazi
Anthony Rota has shown a lack diligence and historical knowledge and should face "personal consequences," a deputy FM in Warsaw has claimed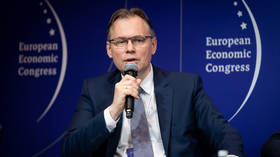 The speaker of Canada's House of Commons, Anthony Rota, should step down for inviting a Ukrainian Nazi Waffen SS veteran to parliament and honoring him, Polish Deputy Foreign Minister Arkadiusz Mularczyk, has said.
The controversy first erupted last week when the Canadian parliament celebrated Yaroslav Hunka, a 98-year-old Ukrainian-Canadian who fought for the 14th Waffen Grenadier Division of the SS, an infamous volunteer unit formed by Nazi Germany, mostly from western Ukrainians, in the second half of World War II. The ceremony took place as Canadian Prime Minister Justin Trudeau and Ukrainian President Vladimir Zelensky were delivering speeches in the House of Commons.
Rota hailed Hunka as "a Ukrainian hero, a Canadian hero… who fought for Ukrainian independence against the Russians." However, in the face of fierce backlash both at home and abroad, he apologized for inviting the Nazi veteran.
Commenting on the scandal in an interview with the PAP news agency on Tuesday, Mularczyk stated it was "a great embarrassment" for Rota, who had shown a "lack of insight, lack of knowledge of history, and lack of diligence."
Mularczyk recalled that the Waffen SS was among the German units that committed the most war crimes during World War II, primarily against Poles and Jews. "The lack of clear condemnation of these individuals and at the same time glorifying them is a great disgrace," he said.
In this light, the deputy FM stressed that the speaker should suffer "some personal consequences." "There should be a resignation from the position of Speaker of the House."
The official also pointed out that the whole controversy shows that there are "unresolved… issues in the history of Ukraine," lamenting what he called constant attempts at revisionism. He indicated that Ukrainian historical policy was marked by "the lack of dealing with the criminal past, hiding its past, and in some situations, even glorification," Mularczyk said.
While Poland has emerged as one of Ukraine's most stalwart supporters amid its conflict with Moscow, the relations between the two remain marred by Kiev's continued veneration of Ukrainian nationalists, many of whom collaborated with the Nazi regime.
Warsaw has repeatedly demanded that Zelensky apologize for the 1943 Volyn Massacre, widely regarded as genocide, committed by Ukrainian nationalists. In May, however, Kiev protested attempts to force the Ukrainian leader to make a statement of contrition on the matter.
You can share this story on social media: