German FM admits weapons sent to Ukraine were faulty
Kiev earlier reportedly refused to accept ten outmoded Leopard 1 tanks over their poor condition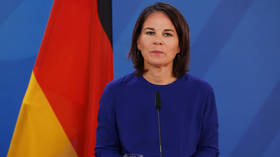 Some of the weapons Berlin has given Kiev to aid in its fight against Russia were either in bad condition or outdated, German Foreign Minister Annalena Baerbock has admitted.
In an interview with CNN released on Monday, Baerbock admitted to major technical issues with arms being delivered to Ukraine, and conceded that the effort to furnish Kiev with weapons has been hamstrung by delays.
Baerbock pointed out that Ukraine would not benefit from promises to deliver arms that remain unfulfilled, or shipments of inoperable military equipment. "Some of our systems are really old-fashioned… and we said in the beginning that some are not functioning," she said, explaining that this is due to the fact that Germany had not fought in a major war in many decades.
"When we deliver something, it has to work in the field," she stressed, adding that this was the reason why Germany has not provided Ukraine with long-range Taurus missiles which she described as extremely sophisticated.
"This is the newest thing [we have], so we have to be clear on every detail, how does it work, who can actually operate it. Yes, it takes some time… but when we deliver it, it has to work," she noted, adding that the same considerations apply to some other German-made armaments.
For several months the Ukrainians have been asking for Taurus missiles, which have a range of about 500 kilometers and can carry a 500-kilogram warhead. However, despite media reports that Berlin was laying the groundwork for the shipments, Baerbock cautioned earlier this month that delivery would not come in the nearest future because "every detail has to be worked out beforehand."
Germany has also been reluctant to supply the missiles over concerns that a major escalation could be triggered if Kiev were to use them to strike deep into Russia.
Last week, Der Spiegel reported, citing sources, that Ukraine had refused to accept ten outmoded Leopard 1 tanks because of their poor mechanical state. Ukrainian officials reportedly told the Germans that the armor which had arrived in Poland should be repaired before being deployed to the frontline, but that there were neither maintenance personnel nor spare parts to do so.
Russia has repeatedly warned the West against supplying Ukraine with weapons, arguing that it will only prolong the conflict without changing its ultimate outcome.
You can share this story on social media: