Time for Catholic Church to abolish celibacy – top bishop
The vow of chastity is "no longer understood by society," Felix Gmur argues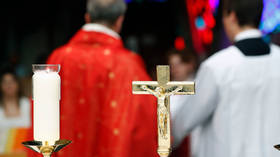 The president of the Swiss Bishops' Conference has called on the Vatican to abolish its celibacy rule and consider admitting female priests, after a study revealed more than 1,000 cases of sex abuse by priests since 1950.
"Celibacy means that I am available to God. But I believe that this sign is no longer understood by society today," Bishop Felix Gmur told the Neue Zurcher Zeitung newspaper on Saturday.
"The time is ripe to abolish celibacy," he continued, adding: "I have no problem at all imagining married priests."
The Catholic Church forbids clergy from marrying or engaging in any kind of sexual activity, although the Vatican admitted in 2019 that these rules are broken so often that it has a secret set of guidelines detailing how to deal with cases of priests fathering children.
Under the Church's strict regulations, abuse often flourishes too. Earlier this month, a study commissioned by the Swiss Bishops' Conference revealed that more than 1,000 cases of alleged sexual abuse involving clergy took place in Switzerland between 1950 and the present day. Some 510 people allegedly took part in the abuse, and three quarters of all victims were minors, the report found.
The Church shielded accused clerics from criminal prosecution by transferring them to different jurisdictions, sometimes abroad, the study revealed.
Gmur said he would "lobby in Rome for the Church to decentralize," arguing that individual dioceses should be allowed to set their own rules on celibacy and the ordination of female priests. The Swiss Bishops' Conference has also announced that it will set up a criminal and disciplinary tribunal to investigate and punish those involved in the alleged abuse.
However, the establishment of this tribunal would set the conference up for a clash with the Vatican, as Canon law does not allow for such a procedure.
Pope Francis vowed in 2019 to crack down on the "destructive evil" of sexual abuse within the Church, and issued a decree making it obligatory for priests and members of religious orders to report suspected cases. However, the pontiff has been accused of tolerating abuse by high-ranking clergymen, including his "trusted counselor," Cardinal Theodore McCarrick.
You can share this story on social media: