London and Moscow held secret talks – British media
Discussions between the UK and Russia do not include "making peace agreements on anyone's behalf," a UK official reportedly insisted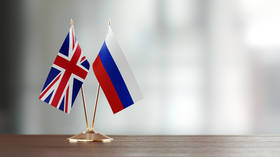 UK government officials have held secret diplomatic talks with Kremlin representatives on international security measures throughout the conflict in Ukraine, according to a report on Friday by British publication The i.
The dialogue took place in cities such as Vienna and New York over the past 18 months, addressing issues such as grain shortages and nuclear safety, according to the report. However, finding a diplomatic solution to the conflict in Ukraine was not discussed, the newspaper said, citing an anonymous British official.
"We have been keeping in contact and we feel it's crucial to maintain an open dialogue during the war in Ukraine," an unnamed senior UK diplomat told the outlet. "We are in no way divvying up parts of the country or making peace agreements on anyone's behalf, but it's vitally important to keep that line of contact open."
Grain prices have soared since Moscow withdrew from the 2022 Black Sea Grain Initiative in July – a deal which allowed Ukraine to export grain from its ports to countries in Asia, the Middle East and Africa in exchange for lifting Western sanctions that prevented Russian agricultural exports.
However, Moscow has insisted that the West continued to make it impossible for Russia to ship food and fertilizer. UK officials also requested assurances over nuclear security throughout the conflict, the report said, on matters including the Zaporozhye nuclear power plant, amid fears of a potential radiation disaster.
The British diplomat told the newspaper that the United Kingdom has a "clear strategic position" on Moscow's military action in Ukraine, and that it is "one of the few subjects" where the UK is in lockstep with NATO and other allies. Therefore, it would be "very odd" if British diplomats had been given authority to attempt to negotiate a truce.
A spokesperson for the UK's Foreign, Commonwealth and Development Office (FCDO) confirmed to The i that discussions with Russian officials had taken place only when "absolutely necessary" but stressed that it is not the position of the United Kingdom to make any decision on behalf of Kiev.
"It is for Ukraine, and the Ukrainian government to determine its position in any negotiations," the spokesperson said. "Just as it is for Ukraine to determine its free and democratic future."
In July, it was reported by NBC News that a group of former senior US national security officials had held discussions with prominent Russian figures, including Foreign Minister Sergey Lavrov. The meetings were intended to form a basis for methods to end the Ukraine conflict, the report said.
On Saturday, Russia's permanent representative to the United Nations, Vasily Nebenzya, told reporters that Moscow has maintained informal discussions with some of "our European colleagues," where issues such as "life, various affairs and politics" are discussed.
You can share this story on social media: