Russian ambassador visits Brooklyn prison
Anatoly Antonov has met three Russian citizens incarcerated in the US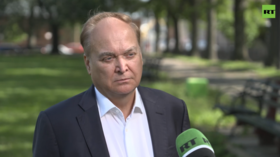 Anatoly Antonov, Moscow's envoy to the US, and a team of consular officers visited a prison in Brooklyn on Thursday, meeting three Russian nationals incarcerated there. The diplomat denounced their conditions as abysmal, vowing to take the issue to the US State Department.
"I've spent almost half a day in a Brooklyn prison. Our task was to see Russians who are there for various reasons," he said, adding that the conditions at the facility were so bad it felt as though "all the energy and power were sucked out of there."
The three Russian nationals have been arrested on various charges: Dmitry Ukrainsky stands accused of stealing funds from US nationals and siphoning them out through Thailand; Anatoly Legkodymov is suspected of money laundering through cryptocurrencies; and Vadim Konoschenok is accused of procuring electronics for the Russian military in violation of US-imposed sanctions.
The charges against all three Russian nationals appear to be falling apart, Antonov stated, alleging that US prosecutors have been trying to intimidate them into a plea deal, threatening them with extremely long sentences otherwise.
"They've even promised to release them … shortly after the trial. And if you don't agree, then you face 20, 30, today I heard even about 60 years," Antonov said.
According to the diplomat, all of the prisoners have been experiencing issues with their eyesight, teeth, and stomachs due to inadequate prison healthcare and the overall conditions at the facility, so he promised to raise the issue with US authorities shortly.
"All of this is a consequence of low-quality products, a lack of normal vitamins, and a normal life, which our citizens are deprived of," the diplomat said. "We will have to contact the US State Department on Monday, [delivering] a note with demands to ensure that our Russians are provided with quality medical care."
Antonov also warned the US government against trying to somehow restrict consular access to jailed Russians over their complaints. Such potential actions will swiftly meet a "reciprocal" response from Moscow, Antonov warned.
You can share this story on social media: