Russia expels two US diplomats
Embassy employees have been accused of recruiting a secret informant in Russia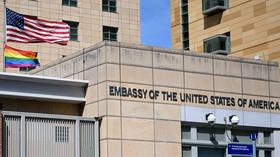 The Russian Foreign Ministry has announced the expulsion of two American diplomats, who were previously accused of recruiting a Russian national as a confidential informant.
US Ambassador Lynne Tracy was summoned on Thursday to be issued with a 'demarche' note, a form of diplomatic protest, regarding David Bernstein and Jeffery Sillin, the Russian diplomatic department has announced.
Moscow declared the activities of the embassy employees incompatible with their status. They have seven days to leave the country, it said.
In late August, the Russian security service FSB identified the two Americans as persons of interest in an investigation. They are suspected of recruiting Russian citizen Robert Shonov as a confidential informant.
The felony that the man has been accused of was added to the Russian criminal code just last year. A person involved in secret cooperation with a foreign state or an international organization, whose actions are "directed at harming the security of Russia," may be punished by up to eight years in prison. Shonov was arrested in May.
Washington has denied any wrongdoing and some weeks ago State Department spokesman Matt Miller called the Russian allegations "wholly without merit." He described the accusations against the diplomats as an attempt to "intimidate and harass" embassy staff.
The ministry stated that "unlawful activity by the US diplomatic mission, including interference in the domestic affairs of the host state, is unacceptable and will be stopped with determination."
Moscow and Washington have been degrading their respective diplomatic representation in the US and Russia for years. The administration of former US President Barack Obama started shutting down Russian consulates after accusing Moscow of "interfering" in the 2016 presidential election.
Russian reluctance to expel US diplomats in a tit-for-tat action in the last weeks of the Obama term in office was one of the elements of the 'Russiagate' narrative that haunted the presidency of Donald Trump. Moscow carried out the retaliation in July 2017.
You can share this story on social media: