FSB names US diplomats at center of Russian informant case
The security service has revealed new details about Washington's alleged confidential informant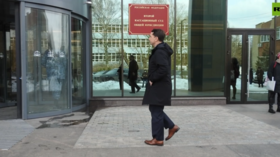 Russia's Federal Security Service (FSB) has named two US nationals as persons of interest in a criminal investigation into a Russian man who is suspected of illegally acting as a confidential informant for Washington.
Robert Shonov, a Russian citizen in his early 60s, worked at the now-defunct US consulate in Vladivostok. He was arrested in May. On Monday, the FSB revealed additional details about the allegations against him, releasing footage from interviews conducted after he was taken into custody.
Shonov said he acted on directions from two employees of the US embassy in Moscow, David Bernstein and Jeffery Sillin, after he was initially approached in September 2022.
He said the American diplomats were interested in information about potential new recruits who were dissatisfied with the policies of the Russian government. He was also encouraged to provide intelligence about Moscow's special military operation in Ukraine. According to the FSB, both Bernstein and Sillin work in the political section of the US embassy.
The felony of which Shonov has been accused became part of the Russian criminal code just last year. A confidential informant for a foreign state or an international organization, whose actions are "directed at harming the security of Russia," can be punished by up to eight years in prison and a fine.
The FSB is seeking to question employees of the US embassy about the case, it said in a new statement. Images released by the Russian agency included photos of two witness summons for last Wednesday. It didn't say whether the diplomats had cooperated.
The US consulate in Vladivostok in Russia's Far East was closed in 2020 as part of a series of tit-for-tat restrictions imposed by Washington and Moscow. The FSB did not specify the period during which Shonov was employed there.
You can share this story on social media: