Rupert Murdoch to step down as chair of Fox and News Corp
The founder of the media groups will exit his senior roles, becoming chairman emeritus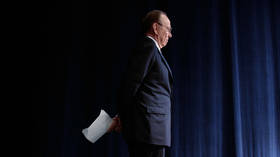 Media mogul Rupert Murdoch has announced a decision to step down from his roles as Executive Chairman of News Corp and Chairman of Fox Corporation, with his son Lachlan set to become the sole chair of both companies.
The move was announced by Murdoch in a letter on Thursday, in which the businessman stated he will officially exit his role in November and become Chairman Emeritus at the companies.
"For my entire professional life, I have been engaged daily with news and ideas, and that will not change. But the time is right for me to take on different roles, knowing that we have truly talented teams and a passionate, principled leader in Lachlan who will become sole Chairman of both companies," Murdoch wrote.
Lachlan Murdoch congratulated his 92-year-old father on his decades-long career and legacy. "We thank him for his vision, his pioneering spirit, his steadfast determination, and the enduring legacy he leaves to the companies he founded and countless people he has impacted. We are grateful that he will serve as Chairman Emeritus and know he will continue to provide valued counsel to both companies," the 52-year-old said in a statement.
An Australian-born billionaire, Rupert Murdoch inherited a newspaper business in the 1950s, taking control of News Limited, which had previously been run by his father Keith. Under Rupert, the media empire grew internationally, gaining control of multiple leading news outlets. By 1985, he had taken ownership of Twentieth Century Fox, launching FOX Broadcasting company a year later. The empire's flagship, FOX News was created by Murdoch as a competitor to CNN in 1996, becoming America's top cable channel since then. His media holdings also include Sky News, The Wall Street Journal, The New York Post, The Sun, The Times, and other major news outlets.
You can share this story on social media: