George Soros funded Joe Biden's 'TikTok Army' – NY Post
The influencers then spread White House talking points on Ukraine and Covid-19, the outlet has claimed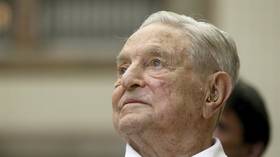 Billionaire financier George Soros handed at least $300,000 to a group of left-wing TikTok creators last year, who used the funding to push a myriad of liberal narratives, the New York Post reported on Saturday. The group often worked under direct instruction from the White House.
Soros' Open Society Foundations donated $5.5 million to the nonprofit Accelerate Action Inc. in 2020 and 2021, which in turn gave at least $300,000 in 2022 to Gen Z for Change, the newspaper reported, citing tax filings.
Gen Z for Change describes itself as a network of more than 500 social media "activists, organizers, and creators." Across various social media platforms, the group publishes content promoting abortion, gun control, liberal immigration policy, and "climate justice," according to its website.
These causes have long been championed by Soros. However, Gen Z for Change has also found itself hired by President Joe Biden to spread his message and attack Republican politicians.
Members of Gen Z for Change were invited to interview then-White House coronavirus tsar Dr. Anthony Fauci in 2021, and were summoned to the White House last year for a briefing on the conflict in Ukraine, during which they were asked to produce "explanatory" content on the US policy and goals in the conflict.
The cozy relationship between the Biden administration and Gen Z for Change has garnered significant media attention, and was lampooned by Saturday Night Live last year.
Aside from funding social media campaigns, Soros also funneled $128 million to Democratic candidates and organizations during last year's midterm season, making him the largest donor of that election cycle. Soros has since stepped down from the helm of the Open Society Foundations, handing control of the NGO over to his son, Alex Soros.
You can share this story on social media: