Musk vows to sue Soros-funded NGOs
The US billionaire reacted to an article accusing Open Society Foundations affiliates of promoting a "censorship agenda"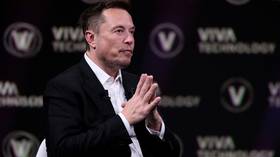 Tesla and SpaceX CEO Elon Musk has pledged to take legal action against non-governmental organizations funded by liberal tycoon George Soros over their alleged attempts to suppress free speech.
In a post on X (formerly Twitter) on Wednesday, the American billionaire reacted to an article by journalist Ben Scallan, who claimed that NGOs backed by the Open Society Foundations, a grant-making network founded by Soros, are pushing a "censorship agenda" in Ireland and Scotland that includes police searches of homes and personal electronic devices.
In his piece, Scallan pushed back against claims by Irish leaders that hate-based crimes in the country have been on the rise. He argued that local police and authorities have encouraged citizens to report this type of misconduct, leading to an uptick in the statistics, but not the actual number of crimes, claiming those policies also triggered a cultural shift in the perception of what can be considered hateful. According to the journalist, this gives the country's authorities an excuse to push for stricter laws that restrict free speech.
"Exactly. X will be filing legal action to stop this. Can't wait for discovery to start!" Musk wrote, referring to the alleged NGOs' activities to support this type of agenda.
Musk – who once called himself a "free speech absolutist" – had already directed a barb at Soros in May, when he compared the Hungarian-born billionaire to supervillain mutant Magneto from Marvel Comics' X-Men series, who like Soros, was a Holocaust survivor.
"Soros hates humanity," Musk said at the time, adding that he "wants to erode the very fabric of civilization." His comments came after it became known that the liberal tycoon had dumped his stake in Tesla, selling about 132,000 shares of the company.
Soros is well known for his neo-liberal policies, as well as massive donations to promote pro-immigration activism. According to a study by the Media Research Center, he has financial ties to more than 250 media outlets worldwide. The study also claims that this type of clout helps isolate him from criticism, shape public opinion, and promote environmental extremism and "LGBT fanaticism."
You can share this story on social media: