George Soros 'hates humanity' – Elon Musk
The SpaceX CEO lashed out at the financier soon after it emerged that he had dumped his Tesla stock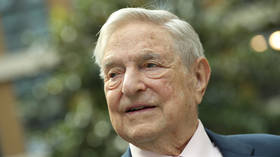 Elon Musk used his Twitter platform to attack Hungarian billionaire George Soros on Tuesday, claiming that the prominent Democratic Party donor "hates humanity," and comparing him to comic-book super villain.
In a tweet which has been viewed more than 20 million times, Musk wrote without explanation that "Soros reminds me of Magneto" – the mutant comic book anti-hero from the X-Men series. Musk elaborated on Soros when pressed by journalist Brian Krassenstein, who claimed that the Hungarian-American businessman was a frequent right-wing punching bag because some people object to his "good intentions" as "they disagree with his political affiliations."
"You assume they are good intentions," Musk responded on Twitter early on Tuesday. "They are not. He wants to erode the very fabric of civilization. Soros hates humanity." The SpaceX and Tesla CEO offered no further evidence to substantiate his claim.
Magneto is a principal character in the Marvel Comics X-Men franchise. The arch-villain of the series, Magneto was played by the British actor Ian McKellan in several feature films, and possesses the ability to control magnetic fields with his mind. Like Soros, Magneto is a survivor of the Holocaust in X-Men canon.
Soon after his Tuesday Twitter salvo, Musk was accused by David Kaye, the former UN special rapporteur on freedom of expression, of promoting anti-Semitic tropes often linked to Soros. "Twitter under Musk really brings it: grade school versions of free speech, quisling in the face of government demands, Soros-baiting anti-Semitism, 2nd amendment extremism – and that's just his account."
Musk's attack on Soros came days after it was revealed in financial filings to the US Securities and Exchange Commission (SEC) that the billionaire investor's Soros Fund Management hedge fund group had sold the entirety of its shares in Musk's electric vehicle manufacturer Tesla in late March.
The filing indicated that Soros' group had around 132,000 Tesla shares on its books at the end of 2022 but dumped its entire stake in the opening months of 2023 after stock rose by 68% from January to March of this year. However, Tesla shares have fallen by around 11% in the past month. The Soros-backed hedge fund also sold other stocks from its portfolio, including Amazon and Alphabet.
In a recent interview, Soros dismissed what he called "far-fetched" allegations that he uses his finances as a means to meddle in political affairs.
You can share this story on social media: