US using Ukraine as electronic warfare testing ground – Defense News
Western media called Russian countermeasures a major factor behind Kiev's battlefield failures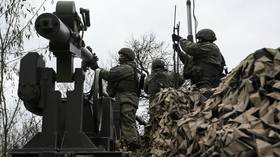 The Pentagon is "taking notes" on the use of electronic warfare (EW) by Russia and Ukraine, US military commander Josh Kozlov has said, the outlet Defense News reported on Wednesday.
The comments from the leader of the US Army's 350th Spectrum Warfare Wing, who was speaking at the Air, Space, and Cyber Conference in Maryland, were of significance given ongoing tensions between the US and China, the outlet reported. Kozlov's unit was created two years ago to spearhead US attempts to catch up in advanced electronic warfare.
"The agility being displayed by both parties, in the way that they're executing operations in the spectrum, is awesome," the US military commander said of the Ukraine conflict. "Both sides are doing the cat-and-mouse game very, very well."
"In the future, for us, if we do confront a peer, being agile and being rapid is the key to success in the spectrum," he added.
Military expert organizations such as the British Royal United Services Institute (RUSI) cite Russian EW capabilities as one of the key reasons Ukrainian forces have failed to make any tangible progress during the three months of its summer counteroffensive.
On the battlefield, Russian troops disrupt Ukrainian communications and interfere with the targeting of Western-provided precision munitions. Electronic countermeasures also help the Russian military thwart Ukrainian drone attacks inside Russia.
The Ukrainian leadership has touted their nation as a testing range for advanced Western weapons systems, arguing that their manufacturers have a unique opportunity for real combat trials of their prototypes.
Ben Wallace, then-Secretary of Defence of the UK, called Ukraine a "battle lab" for the British military during a report to the parliament in July.
You can share this story on social media: