China highlights iPhone security concerns
Beijing's foreign ministry has denied reports that foreign brands such as Apple are to be banned in the country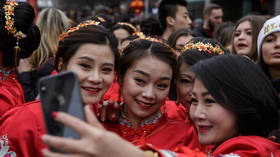 China's foreign ministry spokesperson Mao Ning said on Wednesday that Beijing has noted possible "security incidents" involving Apple's iPhones but denied that a blanket ban on the purchase or use of the devices has been issued.
"China has not issued laws, regulations or policy documents that prohibit the purchase and use of foreign brand phones such as Apple's," Mao said at a press briefing in Beijing in response to reports that government employees had been asked to stop using devices manufactured by the US company.
Mao added that Beijing had noticed "a lot of media exposure of security incidents related to Apple's phones. The Chinese government attaches great importance to information and cyber security and treats both domestic and foreign companies as equals."
The government official did not elaborate on the nature of the alleged security issues but said that all mobile phone companies, including Apple, are required to abide by Chinese regulations and must "strengthen information security management."
Reuters reported last week that staff in at least three Chinese government ministries had been told to stop using iPhones while at work. The news agency added that the extent to which the ban had been implemented remained unclear.
Apple's shares dipped last week amid reports of the possible iPhone restriction in China – one of the brand's most productive markets which is estimated to generate around one-fifth of its annual revenue. iPhone sales have surged in China recently, partly due to US sanctions which affected the locally produced Huawei mobile phone business.
Last year, the Biden administration banned the approval of new telecommunications equipment from Huawei for the US market, citing "an unacceptable risk" to national security. Reports have indicated US officials' concerns over Huawei devices being used as a means to spy on US citizens.
China has repeatedly denied the claims. Speaking in January, Mao called Washington's position on Huawei devices "an abuse of state power" and an "unreasonable suppression of Chinese companies."
Apple, along with its various third-party suppliers, employs thousands of workers in China. In a visit to Beijing in March, CEO Tim Cook praised the country's innovation and heralded China's longstanding ties with the company.
However, reports have indicated that Apple has recently sought to reduce its supply-chain reliance in China due to simmering tensions between Beijing and Washington, and expand some of its manufacturing operations in India.
You can share this story on social media: