China bans officials from using iPhones – WSJ
Government workers will reportedly no longer be allowed to use Apple or any other foreign-brand devices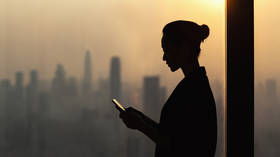 Beijing has reportedly ordered officials working for central government agencies to stop using iPhones or any other foreign devices for work or bringing them into the office, the Wall Street Journal reported on Wednesday, citing people familiar with the matter.
Several government employees told the outlet that they had been given these instructions by superiors in recent weeks via workplace chat groups and in-person meetings.
While government officials at some agencies had already been barred from using iPhones for years, the latest order seems to have significantly expanded the reach of the policy. However, the WSJ noted that it was unclear exactly how widely the orders were distributed but similar messages were also being communicated to employees at some central government regulatory agencies.
Neither Apple nor China's State Council Information Office have yet confirmed the move or responded to requests for comment on the matter, the WSJ said.
The apparent move comes as China has been taking steps to cut its reliance on foreign technology in the interest of strengthening cybersecurity and preventing leaks of sensitive information outside the country.
In February, Beijing also demanded that multinational companies working in China, including the likes of Apple, Amazon, and JPMorgan Chase, must submit their data practices for audit before being allowed to export any locally generated data outside the country.
Similar steps have also been taken in Russia recently, where all members of the presidential administration focusing on domestic policy have been instructed to discard their iPhones. Other government officials have been warned against ever using Apple devices at work due to the threat of surveillance by foreign intelligence.
Meanwhile, the US has also barred its public officials from using Chinese phones from brands such as Huawei, or downloading and using the popular Chinese-owned TikTok social media app on their government-issued mobile devices. Lawmakers have raised concerns that Beijing could be attempting to gain access to American users' data.
You can share this story on social media: