France bans iPhone 12 over radiation concerns
Sales of the Apple device must cease immediately, the regulator ANFR has announced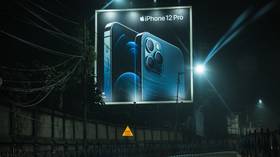 Apple must withdraw all iPhone 12 models from the French market immediately, the National Frequency Agency (ANFR) announced on Tuesday, accusing the popular smartphone of emitting far more electromagnetic radiation than European Union regulations allow.
"The ANFR expects Apple to deploy all available means to put an end to the non-compliance. Failure to act will result in the recall of equipment that has already been made available to consumers," the agency said.
According to the regulator, tests at an accredited laboratory revealed that the phone exceeded the specific absorption rate (SAR) value mandated by the EU, which is four watts-per-kilogram (W/kg), when held in hand or in a trouser pocket. The "body" SAR, when the phone is in a jacket pocket or a bag at least 5mm away, was within the 2 W/kg limit, however.
Apple must immediately stop the sale of the iPhone 12 in France and get ANFR approval if it makes updates to them to ensure compliance, the regulator added. ANFR inspectors have been authorized to check "all distribution channels in France" for the banned device, starting Tuesday.
The iPhone 12 was introduced in October 2020 and has continued to be popular due to a lower price point than the subsequent models. Apple says the model has a SAR of 0.99 W/kg when measured by the EU standard.
Earlier on Tuesday, the California-based Apple announced the iPhone 15 line of devices, featuring the USB-C connector in order to comply with an EU mandate adopted in 2022.
The US Federal Communications Commission has yet to comment on the French announcement. The FCC has a SAR limit of 1.6 W/kg.
France's radiation crackdown comes after several months of bad news for Apple. Last week it was reported that China has banned government employees from bringing iPhones or any other foreign devices into the office or using them for work purposes.
Russian officials were advised to stop using iPhones in July, while the state military industry banned them outright, citing security concerns. Later that month, a class action suit in the UK accused the US-based company of monopolistic behavior regarding fees charged by the app store.
You can share this story on social media: