We won't let Ukrainian grain in – Polish PM
Mateusz Morawiecki has insisted Warsaw will reject any demand the product be sold in the country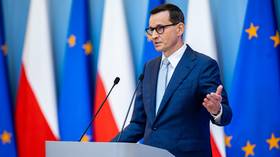 Warsaw will not allow Ukrainian grain to "flood" the Polish market, Prime Minister Mateusz Morawiecki has vowed ahead of deliberations in the EU on whether to extend an existing trade restriction.
The government puts the interests of Polish farmers first and will not allow cheap Ukrainian products to disrupt the domestic agriculture industry again, Morawiecki declared in a video address posted on social media on Tuesday.
"The EU is now considering whether to maintain the embargo. I'll tell you how it ends. Poland will not allow Ukrainian grain to flood us. Regardless of what the decision of Brussels officials will be, we will not open the border," he declared.
The European Parliament is set to debate on Friday the expiration of the EU's ban on importing Ukrainian grain into five Eastern European members of the bloc. The measure was imposed in May, de facto legitimizing national prohibitions by Poland, Hungary, Romania, Bulgaria, and Slovakia.
Ukrainian President Vladimir Zelensky has stated that failure by the EU to lift the ban as Kiev was promised would be a betrayal of "European values." In such a case, the Ukrainian government intends to seek arbitration in international organizations, he said last week.
Kiev has reportedly chosen the World Trade Organization (WTO) as the venue for any potential legal battle with Brussels. Polish Minister for EU Affairs Szymon Szynkowski vel Sek has described Kiev's position as "a threat" that goes "beyond the certain boundaries of classical diplomacy."
Brussels lifted quotas and tariffs from Ukrainian exports in the early weeks of Kiev's armed conflict with Moscow in a bid to support the Zelensky government. The policy backfired on Eastern European nations, however, which faced mass protests by local farmers.
The EU's ban had shut the markets of the five nations to Ukrainian wheat, corn, sunflower seeds and rapeseed, but allowed transit of the goods to continue. However transportation costs cut into the profits of the firms that own Ukrainian farms.
According to an Oakland Institute study released in February, Ukrainian farmlands are predominantly controlled by "foreign interests" either directly or through foreign-registered companies run by local oligarchs.
You can share this story on social media: