Irish PM says island on path to reunification
Leo Varadkar said the success of a reunited Ireland would be judged by how it treats minorities, such as those who identify as British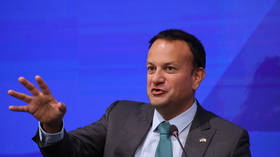 Irish Prime Minister Leo Varadkar has claimed that the Republic of Ireland could be reunited with Northern Ireland within his lifetime and further suggested addressing cultural issues that could arise from such a reunification. The island was partitioned in 1921.
Speaking to state broadcaster RTE on Thursday, Varadkar stated that if the island were to reunite, there would emerge a minority group of roughly one million people who identify as British. The island is currently split between the independent Republic of Ireland and the UK's partial province of Northern Ireland.
The Irish leader noted that the ultimate success of the country would depend on how it treats its minorities and that the island's government would have to consider this issue in the future.
Varadkar has noted that if the island were to reunite, some aspects of Irish culture should be addressed to make British minorities feel more welcome. Specifically, he noted the issue of republican ballads that make reference to the infamous Irish Republican Army (IRA) – a paramilitary organization that used controversial means, including terrorism, to fight for the liberation of the island from British rule.
"What is a republican ballad, a nice song to sing, easy words to learn for some people can be deeply offensive to other people," Varadkar said, referring to a recent performance at a major music festival by a group called The Wolfe Tones that caused outrage as it included the audience response "Ooh, Aah, Up the Ra," lyrics that are widely associated with the IRA.
Varadkar suggested that a reunified Ireland may have to heed the words of Northern Ireland comedian Patrick Kielty, whose father was murdered during the Troubles – the ethno-nationalist conflict that took place between unionists and Irish nationalists in the second half of the 20th century.
"You can't physically unite the island and have nearly a million unionists up the road joining this country without changing some furniture to make those people feel welcome," said Kielty during a recent show. "I think you could probably start with not singing, 'Ooh, aah, up the 'RA' in the changing rooms maybe," he suggested.
Meanwhile, a British government spokesperson has told the BBC that there is currently no basis for a united Ireland, noting that Northern Ireland will remain part of the UK "for as long as its people wish for it to be."
"We are absolutely clear that there is no basis to suggest that a majority of people in Northern Ireland wish to separate from the United Kingdom," he said, adding that "Northern Ireland, its people, and future generations have a bright and prosperous future within the UK."
You can share this story on social media: