'We don't see pro-Russia propaganda' on X (aka Twitter) – Musk
A European Commission report claimed last week that 'pro-Kremlin' narratives were rampant on the platform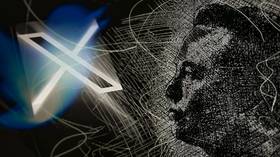 There is no evidence that Moscow has been misusing X (formerly Twitter) to spread its "propaganda" online, billionaire Elon Musk has said. It followed the publication of an EU report last week, which alleged that Russia was conducting "disinformation campaigns" on social media.
"Where is all this pro-Russia propaganda? We don't see it," the entrepreneur posted on X on Thursday in a reply to independent journalist Glenn Greenwald.
The US-Brazilian reporter and political commentator has been highly critical of what he perceives as a campaign by Western governments to stifle public debate and censor dissent online under the guise of fighting malign Russian influence.
Greenwald shared his view on recent examples of that effort on his 'System Update' talk show, posting clips from the episode on X, which drew Musk's attention.
The journalist blasted coverage by the Washington Post of a study released by the European Commission last week. The document analyzed the effect of the EU's Digital Services Act on purported "Russian disinformation campaigns" on major online platforms, including X.
The US newspaper framed the findings as confirmation that Musk has allowed "Russian disinformation" to spread far and wide since purchasing the social media giant last October.
"The whole claim is completely dubious and even flagrantly fraudulent," Greenwald remarked, after lamenting that the WaPo's take had gone "super viral," having been shared by people who did not even read the article, let alone the study.
The report mentioned Musk twice. One reference claimed that the reach of "pro-Kremlin accounts" had grown by 36% between January and May, after the owner argued that "all news is to some degree propaganda," and lifted "mitigation measures." The remark came after Musk reinstated the account of ex-Russian president Dmitry Medvedev in April.
The second mention related to his decision not to suppress accounts associated with the Russian government, a policy that sets X aside from other major platforms, according to the report.
You can share this story on social media: